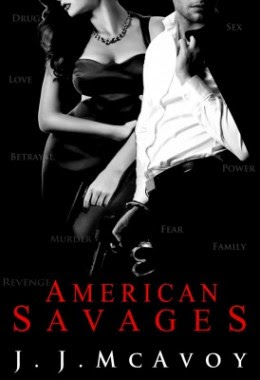 The final book in the Ruthless People series is here...
Betrayed. Melody is nowhere to be found, Liam is in jail, and the Callahan family is cracking, just as Avian Doers, the FBI Director and puppet master behind their downfall, planned.
But just because they're down doesn't mean they're out. To fight back, Liam and Melody will have to put everything on the line. The kid gloves are coming off, and no one is getting out alive. Nothing will compare to the reign of terror that is about to envelope the entire country. First they were Ruthless, now they are pure Savages. The end is here, and no one is safe…
About J.J. Mcavoy
J. J. McAvoy first started working on Ruthless People during a Morality and Ethics lecture her freshman year of college. X number of years later, she is an insomniac who has changed her major three times, and is a master in the art of procrastination. If you ask her why she began writing, she will simply tell you "They wanted to get their story out." She is currently working on her next novel . . . so please bug her on Twitter @JJMcAvoy
American Savages is the last part of the Ruthless People trilogy.
If you haven't met this kickass couple, I have one thing to say.... What are you waiting for?
I had the extreme pleasure to receive an ARC for this outstanding story and I hope you will give this series a try.
American Savages is so much more than a book about a couple (Melody and Liam). It's also about an entire clan, an entire family - the Callahan.
As in the previous book, you have many points of view (maybe a little less) to fully immerse yourself in this terrific journey.
We get back in the story with Liam left alone in jail waiting for his trial. No matter how he claims his innocence about Melody's disappearance, nobody wants to believe him.
From the beginning my heart was hurting for him. He was really secretive but he only wanted one thing: to be with his family, especially his son Ethan.
He wanted Melody as much but he was angry toward her and he didn't know what to do about it.
For those who know Melody, you already know that she has some issues with her feeling and how to express them. She never knows how to deal with those feeling because she was never taught to let someone in. Liam is the first and only one to break his way into her heart.
He's so in love with her. It's beautiful to see and he wishes she would show him how much she needs him someday.
Once they are back together and after some adjustments, let me tell you they are more ruthless than ever! Yep, it is in fact possible.
Nobody will stand in they way and be assure that if you want to betray them or try to overstep them, you won't get a chance
During most of the book I was wondering how J.J.McAvoy will handle all the different problems the Callahan were dealing with because when you are the most powerful family, it comes with a price. And everyone thinks they can have a little of that power... But nope, not with the Callahan
At some point I was holding my breath. At every page, you are wondering what will happen, if you have guess right or wrong, how the family is going to react. That's what I call good anticipation!
I also loved the calm J.J.McAvoy provided in this story before the storm.
Everything falls into place for those who can wait and I can promise you won't be disappointed.
I know I don't give much details but saying much would spoil the book.
At the centre of this book, Melody and Liam keep growing and keep surprising me scenes after scenes. They are hot together. Their attraction comes in full force and be ready for some dominant Liam
You will see how strong both of them are and it was a real pleasure to see them grow as a couple but as a person as well
The other characters are taking a huge part here and they always intervene at the correct time.
Declan and Coraline are my second fav' couple. I'm so happy to see we have a novella with their story (Get your copy
HERE
)
Evelyn and Sedric are two perfect grandparents, always wise when they talk, always there when we need them ♥
Neal an Olivia... I don't know what to say about them...
[ Pool Neal, always the wrong and bad choices (hide spoiler)]
Now I'm a little sad because as much as I enjoyed all of them, I don't feel ready to let them go yet... J.J. McAvoy, would you write another novella maybe?
[ about Mira and Neal for example :p (hide spoiler)]
~NEVER FORGET THE RUTHLESS BECAUSE THEY WON'T EVER FORGET YOU~
J.J.McAvoy