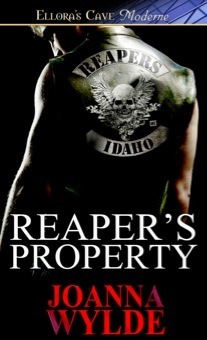 Marie doesn't need a complication like Horse. The massive, tattooed, badass biker who shows up at her brother's house one afternoon doesn't agree. He wants Marie on his bike and in his bed. Now. But Marie just left her abusive jerk of an ex-husband and she's not looking for a new man. Especially one like Horse—she doesn't know his real name or where he lives, she's ninety percent certain he's a criminal and that the "business" he talks with her brother isn't website design. She needs him out of her life, which would be a snap if he'd just stop giving her mind-blowing orgasms. Horse is part of the Reapers Motorcycle Club, and when he wants something, he takes it. What he wants is Marie, but she's not interested in becoming "property of". Then her brother steals from the club. Marie can save him by giving Horse what he wants—at home, in public, on his bike… If she's a very, very good girl, she'll get lots more of those orgasms only he can offer, and he'll let her brother live. Maybe.
This is going to be a quick review because I'm probably one of the last person to read this now.
After reading Silver Bastard, I had to go back where it all started. I had to meet the Reapers MC.
Reaper's property is about Horse and Marie. I immediately connect to Marie. She is a girl who made wrong choices in life but with a little help from her brother she can nearly start over.
I found her to be a charming character. She was between a naive frighten girl and a girl who doesn't like to be told what she has to do.
When she meets Horse for the first time, there's already sparks between them. She is not ready to be with a man but Horse and his bike are quite a temptation, especially since him and his friends come more and more often to see her brother.
Horse is a man who takes what he wants and how he wants it.
I think it's the motto in biker books. He sees a woman he likes, he takes her. Simple. Period.
"This pussy is mine. You are mine. I'll fuck you when and where I want, and you can either take it ot get the fuck out. Are we clear?"
But with Marie, things are not as simple as it seems. She doesn't say no but she put limits where he usually doesn't have limits.
Their interactions were funny. I found Horse cute... I know that's not really a word you can associate with bikers but the way he was with her, it was sweet.
Immediately, you see he is a good guy.
Throughout the book, I liked him a lot. Horse is funny, ready to protect the girl he love but he is a total caveman, and that's another motto for biker club. Man are all caveman and think they can do whatever they want... and to be honest Horse manage to annoy me a little.
As a part of an MC club, you get to meet a lot of others characters. At first I had some trouble to keep every name in mind but at the same time I knew some from the Silver Bastard.
Now I can't wait for Em story. I know the blurb because I read it and I think it's going to be
EPIC
!!
But first Ruger and I will meet soon ^^
OTHER BOOKS IN THIS SERIES: