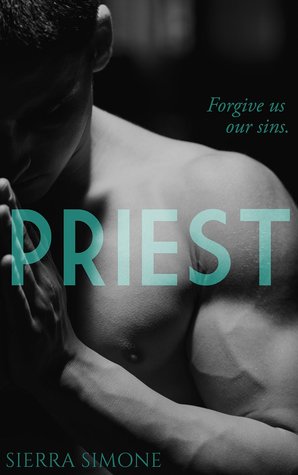 There are many rules a priest can't break. A priest cannot marry. A priest cannot abandon his flock. A priest cannot forsake his God.
I've always been good at following rules.
Until she came.
My name is Tyler Anselm Bell. I'm twenty-nine years old. Six months ago, I broke my vow of celibacy on the altar of my own church, and God help me, I would do it again.
I am a priest and this is my confession.
BUY LINKS
MY REVIEW
✪✪✪✪
Priest was my first read from Sierre Simone and it won't be my last for sure.
I remember I took a test about Book Boyfriend some time ago and it said that my perfect match would be Juliam Markham. I had no idea who the guy was but I've seen it was a trilogy and I decided to put it on hold because I didn't had the time to read BUT now I might reconsider and read it sooner rather than later.
What I loved the most about Priest was certainly the writing style. You are caught right away in Sierra's world and how she brings her characters alive. I was hooked, not only because of the forbidden aspect of this story but also by the promise of what's to come.
Father Bell is an handsome priest. I don't know if one of those exists in the real world but I'm sure no one speaks dirty like he does.
"You're acting like a slut, making me act this way. You're making me break all sorts of rules, and I hate breaking rules."I moved to her neck, kissing and biting."You'll take it anywhere you can get it, won't you?"
Three years ago, Tyler became a priest for reasons you need to discover yourself. Ever since, he is dedicated to others, to help them, to guide them, to bring them purpose and he wouldn't want it any other way.
"I was a good man. I had worked very hard to be a good man, devoted myself to living my life the way God wanted. I counseled, I comforted, I spent hours upon hours in contemplative prayer and meditation."
Until one day, during a confession, a woman showed up and picked his interest.
For him, Poppy was a lost lamb who needed some guidance. To me, she was just a giant tease.
I won't talk much about her because clearly I dislike her so much I don't want to give her some credit.
She might seem fragile and she might seem in search of some kind of redemption but to me she was just a slut.
She is the reason I almost DNF the book because her behavior pissed me off. I continue only because for me the book has a more important message.
This is mainly the story of a man looking for his purpose in life.
"One woman, no matter how hot, was not going to unravel everything I held sacred about the priesthood. She was not going to destroy everything I'd worked so hard to create"
Throughout my read I could perceive his struggle to do what was supposed to be right.
His attraction to Poppy is something he has never felt. He never planned to break his vows because when he committed to God, it was what he wanted, what he was called for.
Father Bell – Tyler was so conflicted and so in need of guidance, I wanted to show him the path myself.
I'm not a religious person. I consider myself as an atheist but I could totally understand why he was questioning himself and why he needed someone to absolve his sins.
"Was it truly so terrible for a man of God to have sex? The Protestants had been doing it for half a millennium and they seemed no more hell-bound than the Catholics for it. And was it so wrong to want both? I wanted to lead this church, I wanted to help people find God. But dammit, I wanted Poppy too, ..."
In conclusion if you doesn't mind some taboo read, if religion is not a touchy subject, if you are open-minded, if you like steamy scenes and if you likes books with a meaning behind, Priest is your match
" Priests weren't allowed to fall in love"