My name is Quinn Blackwood:
By day, I'm a billionaire CEO. Rich. Entitled.By night, I'm the exclusive porn star only known as Q.Why? Because I love women. If I believed in an almighty being, I'd thank him for creating them. They're by far his most perfect creation… especially when I'm fucking one of them.
Oh, did I mention I'm an asshole? Fuck yeah. According to my shrink, I'm one twisted motherfucker. And that's just the way I like it. Until she walks into my life…
My name is Elyse Gilbert, nicknamed 'Lucky' because according to my dad, I'm the unluckiest person alive, and I'll die the same way I came into the world: naked, screaming, and dirt poor.
Yeah, my life is a twisted, seething mess. But that life changed the day I met HIM.He made me forget the cameras.He made me forget I was doing this for the money.He made me forget my shame.He made me forget everything. I was consumed by him.
Only him.
But now my past has caught up with me.
Stand-alone
Chloe Madison. That's me. A former NYU princess who just fell from grace, right off my pampered Manhattan throne and onto the unforgiving steps of Nicole Brantley, socialite and queen bitch. Now, I walk her dog and mix her smoothies. Try to navigate my own problems while fixing all of hers.
I want what every New York girl wants. A career, an apartment, and true love, preferably in a smoking hot package.
It turns out I'll have to fight for all of it.
Stand-alone
Three Sinners. Three confessions. And all the dirty little secrets you could possibly desire...
Father Stuart Ballard has been Marcus Stearns' confessor since the young Jesuit was only eighteen years old. He thought he'd heard every sin the boy had to confess until Marcus uttered those three fateful words: "I met Eleanor."
So begins the 40-page "The Confession of Marcus Stearns," a moving coda to the RITA® Award-winning Original Sinnersseries. Originally published as a limited-edition paperback for the 2014 RT Booklovers' Convention, and available worldwide for the first time.
This collection also includes "The Confession of Eleanor Schreiber," a companion 36-page story written exclusively for The Confessions.
And, finally, all secrets are revealed in "The Confession of Tiffany Reisz," an exclusive, in-depth interview.
UnthinKable. UnimagInable. UndeniabLe. UnforgivabLe. SalvageablE. Redeemable.
Ten years ago, their lives shattered to pieces... And he's the KILLER that has to live with it.
Two people. One incident. Interwoven between two damaged souls in ways they don't understand.
***
"The fact I feel anything should let me know I'm headed in the wrong direction, headed down a path of darkness, destruction, and failure. A path that will dig out memories so painful I've created an entire persona to avoid dealing with them. Yet I know—I'm going down that path headfirst no questions asked, no matter the outcome. I might be a monster, but I'm a selfish one."—Keller Keating
"When his strength envelops me, every wrong becomes right, every anxiety melts away, every doubt disappears. I feel calm, safe, whole. The spark of life that's been missing inside burns bright, lighting me up like a solar flare, sizzling white-hot through my veins. Keller brings me out of the darkness and into the light."—Britton Reeves
Foul-mouthed, tattooed, vegan Marie Diaz-Austin accepted a summer internship on a ranch north of Santa Barbara to work with underprivileged and special needs kids. Will Thrash, the gorgeous, but conservative rancher, wants nothing to do with left-wing liberals like her.
Although they hate each other's politics, they cannot deny their immediate and growing attraction to each other. What will give? Their principles or themselves?
A book about our ideologies and our humanity, politics and sex, prejudices and beliefs.
The Carolina Cold Fury hockey team proves that love is a power play. As Sawyer Bennett's New York Times bestselling series continues, the league's most notorious party animal gets blindsided by the one that got away.
Off the ice, elite defenseman Hawke Therrien enjoys his fair share of booze and good times. And why shouldn't he? He's worked his way up from the minor leagues and made himself a star. The only thing Hawke misses from that life is the pierced, tattooed free spirit who broke his heart without so much as an explanation. She's almost unrecognizable when she walks back into his life seven years later—except for the look in her eyes that feels like a punch to the gut.
Vale Campbell isn't the same girl she was at twenty. As crazy as she was about Hawke, her reckless behavior and out-of-control drinking were starting to scare her. She had to clean up her act, and that would never happen with Hawke around. Cutting him loose was the hardest thing Vale ever had to do—until now. Because she's still crazy about Hawke. And if he could ever learn to forgive her, they just might have a future together.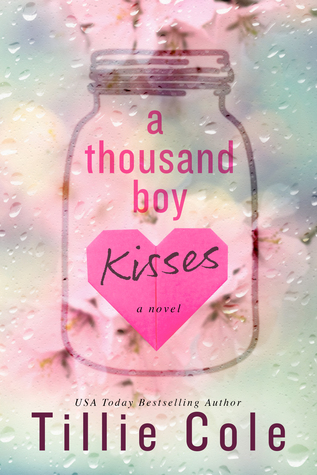 One kiss lasts a moment.
But a thousand kisses can last a lifetime.
One boy.
One girl.
A bond that is forged in an instant and cherished for a decade. A bond that neither time nor distance can break.
A bond that will last forever.
Or so they believe.
When seventeen-year-old Rune Kristiansen returns from his native Norway to the sleepy town of Blossom Grove, Georgia, where he befriended Poppy Litchfield as a child, he has just one thing on his mind. Why did the girl who was one half of his soul, who promised to wait faithfully for his return, cut him off without a word of explanation?
Rune's heart was broken two years ago when Poppy fell silent. When he discovers the truth, he finds that the greatest heartache is yet to come.
Standalone Young Adult Tearjerker Romance. For ages 14 and up.
"I've always believed for every person there was only one love that would last a lifetime. I never understood quite what it meant until I met you though. You're it for me, Lorrie. You are my love that lasts a lifetime." ~
Curtis Walker
A love story 50 years in the making…
Curtis Walker has lived his life to the fullest and he attributes that to the woman who has always been by his side. The one thing he knows with absolute certainty: he can't live without her. Especially not now.
A love that has withstood the test of time…
It's no secret that Curtis and Lorrie, the proud parents of the seven wild and rowdy Walker brothers, have found their happily ever after. Now, it's time for the emotional journey of how they got there.

Stand-Alone
March 20
Victor Reuben.
Most sought out divorce attorney in LA.
Nicole Alessi.
Soon to be ex-wife of Hollywood's biggest star, Victor's latest client and his boss's daughter.
In such a high profile divorce, they can't afford any extra drama. Luckily, neither one of them has anything to hide.
Unless you count the mind blowing sex they had…
Once…
Twice…
Three times all those years ago.
As long as they leave the past where it belongs, they'll be fine. But with her wearing those tight dresses and him giving her those heated glances, keeping their hands to themselves is proving to be more difficult than either one of them realized.
It won't be long before the paparazzi start to smell smoke, and where there's smoke...
Stand-Alone