Justice Lonesome has enjoyed a life of bounty.
Even so, she's inherited the curse of the Lonesome. A poet's soul. Which means she's still searching for something. Searching for peace. Searching for the less…that's more.
And when the foundation of her life is pulled out from under her, grieving, she goes to the mountains to find her oasis. She hits Carnal, Colorado and decides to stay.
Deke Hightower lost everything at the age of two. He lost it again at fifteen. His life has not been about bounty. It's been about learning to live with less, because there's no way to get more.
Deke's also watched all his friends go down to the women who gave them what they needed. He wants that for himself. But he knows that search isn't going to be easy because he's a rider. His home is the road. That's the only place he can breathe. And the woman who takes her place at his side has to do it sitting on the back of his bike.
When Deke meets Justice, he knows she's not that woman. She's cute. She's sweet. And she's into him, but she's got it all and Deke knows he won't fit into that. So he holds her at arm's length. Establishes boundaries. And Justice will take it because she wants Deke any way he'll let her have him.
But when Justice finds herself a pawn in a dangerous game, Deke makes a decision.
When he does, he has no idea he's just opened himself up to bounty.
Stand-Alone
After a car accident stole his dreams of pro football, JT McKinney has made a new life for himself far away from his old one. He spends his time in a prosthetic research and development facility, his attention on machines instead of people until a chance meeting with a young mother and her five year old daughter who need his help. He'll have to let go of the past if he wants a future.
Stand-Alone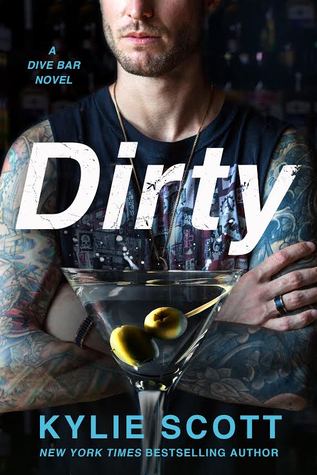 The last thing Vaughan Hewson expects to find when he returns to his childhood home is a broken hearted bride in his shower, let alone the drama and chaos that comes with her.
Lydia Green doesn't know whether to burn down the church or sit and cry in a corner. Discovering the love of your life is having an affair on your wedding day is bad enough. Finding out it's with his best man is another thing all together. She narrowly escapes tying the knot and meets Vaughan only hours later.
Vaughan is the exact opposite of the picture perfect, respected businessman she thought she'd marry. This former musician-turned-bartender is rough around the edges and unsettled. But she already tried Mr. Right and discovered he's all wrong-maybe it's time to give Mr. Right Now a chance.
After all, what's wrong with getting dirty?
Dive Bar series
:
Twist
(pre-order)
Rand Bishop's dreams of Olympic gold were shattered years ago but he's left that all behind, settling into a new career and lifestyle that would make any man jealous. While he may not be competitively racing down the ski slopes anymore, he's just as happy getting his rocks off as a Fantasy Maker for The Silo.
He's good at what he does.
Damn good.
But while life couldn't be better for Rand, it seems to be falling apart for Catherine Lyons Vaughn, the dark haired, brown-eyed beauty that has captivated an entire sex club.
Having spent years degrading herself on her husband's whim and now left destitute after his death, Catherine has hit rock bottom. With nothing but her body to peddle, Catherine is merely trying to figure out how to survive in a harsh, cruel world. Lucky for her, Rand has taken her under his tattooed wing, and he's determined to give her a safe life where she can be the woman she was always meant to be.
Now all Catherine has to do is believe she deserves the chance.
The Wicked Horse series:
Wicked Fall
-
Wicked Lust
**A multicultural new adult romance from bestselling author, J.J. McAvoy**
Eli Davenport thinks he's found the perfect woman to be his wife. She's a doctor, like he is. She's brilliant, like he is. And she's wealthy, like he is.
Guinevere 'Gwen' Poe thinks her fiancé is the perfect man. He's handsome, successful and he was her first…
But when Eli's bride runs off with Gwen's fiancée on his wedding day, they are left to pick up the broken pieces of each other...
Stand-Alone
Join Jake & Chelsea, Stanton & Sofia, Brent & Kennedy as they navigate the hilarious and heartwarming hurdles of love, life and the law in this final addition to the Legal Briefs Series.
There was a time when Jake Becker had it all together. He was controlled, driven, ruthless—in and out of the courtroom.
Then, six irresistible orphans and their heartbreakingly beautiful aunt crashed into his perfectly ordered life. They changed everything. They changed him. Now he's a husband, an upstanding member of society, a father figure—a family man. And he's pretty damn good at it.
Sure, he has to referee sibling smackdowns, re-learn algebra, ensure his clients stay of jail, and keep his wife happy—but it finally feels like he's got it together again.... So, of course something has to screw it all up.
It's huge. Life-changing. Kind of terrifying.