**A multicultural new adult romance from bestselling author, J.J. McAvoy**
Eli Davenport thinks he's found the perfect woman to be his wife. She's a doctor, like he is. She's brilliant, like he is. And she's wealthy, like he is.
Guinevere 'Gwen' Poe thinks her fiancé is the perfect man. He's handsome, successful and he was her first…
But when Eli's bride runs off with Gwen's fiancée on his wedding day, they are left to pick up the broken pieces of each other...
"And down by the brimming river
I heard a lover sing
Under an arch of the railway:
'Love has no ending.
'I'll love you, dear, I'll love you
Till China and Africa meet,
And the river jumps over the mountain
And the salmon sing in the street,
'I'll love you till the ocean
Is folded and hung up to dry
And the seven stars go squawking
Like geese about the sky." ~ W.H. Auden
There's many things I like about JJ McAvoy and one of those is her originality. You never get the same thing twice. I simply loved this!
I loved the plot, the characters, the slow build, the love-hate, the banter, Dr. Asshole, Gwen and the last line of the book *sigh* perfect!!!
This was like When Harry Met Sally mixed in with a bit of Love Actually and Four Weddings and a Funeral.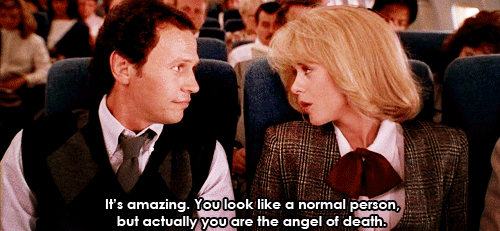 Seriously, I could name any number or combination of similarly great movies that just make you laugh, cry and squeee with the romance, the feels and the friendship and you'd get my drift. This book was golden!
Right from the get go, the story grabbed me. It had my stomach dropping into my knees and my heart aching from the surprise that sets the tone for the story of Gwen and Eli.
And these two...Gwen was funny, quirky, a free spirit and so likable. Eli was her opposite in so many ways with his "life plan" and disdain for disorder but with Gwen, he just clicked. Was a different person.
And their banter and the blossoming friendship...
"How is it possible to both compliment me and insult me at the same time?"
And Gwen's moniker for Eli says it all: "Dr. Asshole,Boyfriend, sexy Pussy Fucker, Eli!!" Love that girl! And Eli was adorable even when I wanted to wring his neck!
"You win."
"What?"
"This date. It's officially the best one of my whole life. You win. I admit that you, Eli Phillip Davenport, are remarkable."
There's one part towards the last third of the book that some might not like at all and I'll admit, I felt icky about it. But, for me, it worked because this story reminds you that life's messy, people can be shitty and cut others to the core but above all else, love is wonderfully complicated.
**ARC generously provided by author in exchange for an honest review.**
About J.J. Mcavoy
J. J. McAvoy first started working on Ruthless People during a Morality and Ethics lecture her freshman year of college. X number of years later, she is an insomniac who has changed her major three times, and is a master in the art of procrastination. If you ask her why she began writing, she will simply tell you "They wanted to get their story out." She is currently working on her next novel . . . so please bug her on Twitter @JJMcAvoy