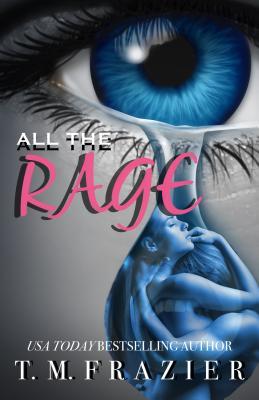 They call me Rage.
My real name is like a shadow, always close behind, but never quite able to catch up.
I fly under the radar because no one ever suspects I m capable of the kind of brutal violence I commit each and every day.
You see, I m a girl. I m nineteen.
And I'm a killer.
This life is all I know.
It s all I want to know.
It keeps the s**t buried that I need kept buried.
It allows me to live without thinking too much.
Without dwelling on the past.
Until him.
It all changes when an ordinary boy becomes my next target.
And my first love.
I have to choose.
The only life I ve ever known has to die, or he does.
Either way, I ll be the one pulling the trigger...
All the Rage is a STANDALONE
If you met Rage in Soulless then you know that this girl needs no introduction. Like Preppy and Bear in King, she's one fucking standout character. And as soon as she stepped onto the scene, I wanted to know her story.
Rage
is truly an unique character with her innocence on the outside: blonde pigtails, big blue eyes and youth. But on the inside,
this girl is feral, anger personified and dangerous
. As you can imagine, she's one wildly lethal weapon. With her looks, her targets never see her coming.
Nolan Archer
is just another job for Rage, until he's not. Nolan's no ordinary job. Lines are crossed and things get blurry when Rage's body and mind react to Nolan in ways she's never experienced before. So this is what attraction feels like? Lust?
"His lips descended on mine and we didn't just kiss, we tore each other apart. It wasn't just passion. It was fucking war. An all out fight for a piece of one another. A piece I knew I wanted but didn't think I could have."
Nolan's another unsuspecting character. At first, while I really liked him, I didn't know how Rage would fit with him. I can't say more without giving anything away. But I really connected with all facets of his character and as more and more about him is revealed, I was a goner. And as for Rage, ditto, she was drawn to Nolan, like no other. And while she was a pro at murder and mayhem, she was so innocent when it came to matters of the heart.
"I'm going to fuck the anger out of you."
"I wanted her. Body, heart and fucking soul."
Having read several TM Frazier's books, I knew she'd throw in a surprise or two and so I was prepared. And while I saw some coming, she still gave lots of twists and turns that kept me wanting more. She really knocked it out of the park with this one.
This was a maelstrom of love and hate, rage and peace, and dark and light.
I highly recommend this. I have to say as of now, this is my favourite book by this author. Checked all my boxes and kept me attached to my Kindle to the very end.
**ARC generously provided in exchange for an honest review.**
It was once said that if you love someone enough you should let them go. If they come back to you, they were always meant to be yours.
It's kind of bullshit.
My story was a little different than most. I was a little different than most.
Because in my story, if you love someone enough, you should first drop the gun.
T.M. (Tracey Marie) Frazier resides in sunny Southwest Florida with her husband and three feisty fur kids.
She attended Florida Gulf Coast University where she specialized in public speaking. After years working in real estate and new home construction, she decided it was finally time to stop pushing her dreams to the back burner and pursue writing seriously.
In the third grade she wrote her very first story about a lost hamster. It earned rave reviews from both her teacher and her parents.
It only took her twenty years to start the next one.
It will not be about hamsters.
a Rafflecopter giveaway