June 7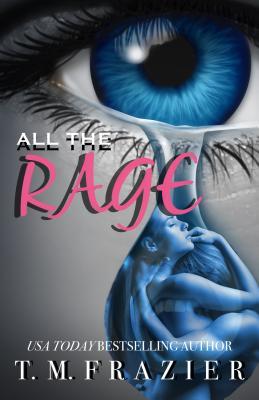 They call me Rage.
My real name is like a shadow, always close behind, but never quite able to catch up.
I fly under the radar because no one ever suspects I m capable of the kind of brutal violence I commit each and every day.
You see, I m a girl. I m nineteen.
And I'm a killer.
This life is all I know.
It s all I want to know.
It keeps the s**t buried that I need kept buried.
It allows me to live without thinking too much.
Without dwelling on the past.
Until him.
It all changes when an ordinary boy becomes my next target.
And my first love.
I have to choose.
The only life I ve ever known has to die, or he does.
Either way, I ll be the one pulling the trigger...
Knowing what you know now of writing, publishing, and putting your art out into the world, if you could go back to the day you sat down to start typing in your very first manuscript, what words would you offer to yourself? Words of encouragement? Words of advice? Caution against certain pitfalls? Would you change anything about how you got to where you are today?
The publishing community is so much bigger than it was before the self-publishing boom and it continues to grow exponentially every day. Unfortunately, it doesn't come with a handbook or support group. #AmWriting is a collection of letters written by authors from all different corners of the publishing community. The letters provide words of encouragement or advice to those just starting out or those who have become discouraged in their art. At Pure Textuality PR, we believe in supporting each other as a community, and we felt this project would be a good way to bring writers together and maybe give some new artists just the right nudge to keep going.
100% of the net proceeds of #AmWriting will be donated to The Wayne Foundation, a charity dedicated to offering aid and services to young women victimized by illegal sexual exploitation and the sexual trafficking of minors. For more information about The Wayne Foundation, you can visit them on the web at http://waynefdn.org.
**This book features letters from more than 70 authors, including Jeaniene Frost, T.J. Michaels, Kendall Grey, and many more!
One life-changing summer.
One boy.
The boy.
The boy who offered me safe touches and heart-stopping smiles - smiles he shared with his son.
We filled our days with porch-step kisses, filled our ears with laughter, filled our hearts with love.
Deep, soul-aching, desperate love.
But love is misleading.
It's an invisible, fleeting moment. Somewhere between false adoration and pure hatred comes an emotion, a vulnerable need, a single desire. It lives within the ones who miss it, who crave it, who know better than to expect it.
Love is relentless.
Even when that love turns to hate, turns to loathing, turns to pain.
Love should heal you.
But it can also break you.
Believe me, I know...
Because I'm Becca Owens - a broken girl... ...
And he's Josh Warden - the boy who broke me.
From the author of Maybe in Another Life—named a PeopleMagazine pick and a "Best Book of the Summer" by Glamour andUSA Today—comes a breathtaking new love story about a woman unexpectedly forced to choose between the husband she has long thought dead and the fiancé who has finally brought her back to life.
In her twenties, Emma Blair marries her high school sweetheart, Jesse. They build a life for themselves, far away from the expectations of their parents and the people of their hometown in Massachusetts. They travel the world together, living life to the fullest and seizing every opportunity for adventure.
On their first wedding anniversary, Jesse is on a helicopter over the Pacific when it goes missing. Just like that, Jesse is gone forever.
Emma quits her job and moves home in an effort to put her life back together. Years later, now in her thirties, Emma runs into an old friend, Sam, and finds herself falling in love again. When Emma and Sam get engaged, it feels like Emma's second chance at happiness.
That is, until Jesse is found. He's alive, and he's been trying all these years to come home to her. With a husband and a fiancé, Emma has to now figure out who she is and what she wants, while trying to protect the ones she loves.
Who is her one true love? What does it mean to love truly?
Emma knows she has to listen to her heart. She's just not sure what it's saying.
Libby
I found Killian drunk and sprawled out on my lawn like some lost prince. With the face of a god and the arrogance to match, the pest won't leave. Sexy, charming, and just a little bit dirty, he's slowly wearing me down, making me crave more.
He could be mine if I dare to claim him. Problem is, the world thinks he's theirs. How do you keep an idol when everyone is intent on taking him away?
Killian
As lead singer for the biggest rock band in the world, I lived a life of dreams. It all fell apart with one fateful decision. Now everything is in shambles.
Until Liberty. She's grouchy, a recluse—and kind of cute. Scratch that. When I get my hands on her, she is scorching hot and more addictive than all the fans who've screamed my name.
June 9
What do you do when your soul mate marries your best friend? If you're Kate Evans, you keep your friend Rachel, bond with her kids, and bury your feelings for her husband. The fact that Shane's in the military and away for long periods helps-but when tragedy strikes, everything changes.
After Rachel, pregnant with her fourth child, dies in a car accident and the baby miraculously survives, Kate upends her entire life to share parenting duties. Then on the first anniversary of Rachel's death, Kate and Shane take comfort in each other in a night that they both soon regret.
Shane's been angry for a year, and now he feels guilty too - for sleeping with his wife's best friend and liking it . . . liking her. Kate's ability to read him like a book may have once sent Shane running, but their lives are forever entwined and they are growing closer.
Now with Shane deployed for seven months, Kate is on her own and struggling with being a single parent. Shane is loving and supportive from thousands of miles away, but his homecoming brings a betrayal Kate never saw coming. So Kate's only choice is to fight for the future she deserves - with or without Shane. . .
Stand-Alone
College, for most girls, comes with a rite of passage to make mistakes, to live fearlessly, and to experience the real world while not under a microscope. Most girls don't have to worry about having their every move scrutinized, criticized, and worst of all, publicized. As the only child of the governor of South Carolina and potential US Presidential candidate, Charlotte Maryland Baker is not granted the luxury of the typical college experience.
Tyler Stone lives for baseball and everything that comes with it. The only place he feels he matters is on the pitching mound, and his stats prove he's an exceptional player. Without the distraction of dating or making friends, he can concentrate on the one thing that makes him feel complete – Baseball.
Dark Contemporary Romance coming June 9, 2016 This book is a standalone set in the same world as Ricochet.
No matter how unbreakable he may seem, every man has a weakness.
A year ago, my home became a bloodstained crime scene. That night marked the beginning of my hell—the same night I was tortured by my enemies and tossed into an underground prison to die.
They failed. I survived.
Now that I'm free, only one motive burns in my soul: revenge.
Lucky for me, they think Jase Hawkins is dead. Maybe I am. I've got nothing but a cold, merciless rage, and Black Betty, the sharp steel blade that never leaves my side.
Then she drifts into my life.
Lucia wants answers—so much so, she's willing to fall into the darkness where my enemies lie in wait, to kill her for what she knows.
Or to take her for the depraved fantasies her body alone can rouse in a man's mind.
Me? I want her for the fire in her touch that feeds my addiction, forces me to feel what has become numb, but my appetite for bloodshed runs deeper than flesh.
For my own sanity, I've vowed to stay away from her. Because she's my only weakness, an obsession that leaves me craving more—one that could make even the most steadfast plan backfire