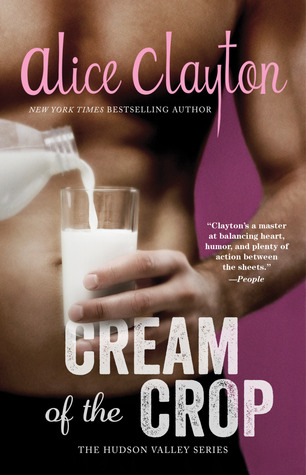 New York Times and USA TODAY bestselling author Alice Clayton brings her trademark blend of funny and sexy to this second contemporary romance in the brand-new Hudson Valley series!
Manhattan's It Girl, Natalie Grayson, has it all: she's a hot exec at a leading advertising firm, known industry-wide for her challenging and edgy campaigns. She's got a large circle of friends, a family that loves her dearly, and her dance card is always full with handsome eligible bachelors. What else could a modern gal-about-town wish for? The answer, of course, is...cheese.
Natalie's favorite part of each week is spending Saturday morning at the Union Square Farmer's Market, where she indulges her love of all things triple cream. Her favorite booth also indulges her love of all things handsome. Oscar Mendoza, owner of the Bailey Falls Creamery and purveyor of the finest artisanal cheeses the Hudson Valley has to offer, is tall, dark, mysterious, and a bit oblivious. Or so she thinks. But that doesn't stop Natalie from fantasizing about the size of his, ahem, milk can.
Romance is churning, passion is burning, and something incredible is rising to the top. Could it be...love?
4.5 Pinup & Caveman STARS
Alice Clayton just knows how to bring it with the perfect balance of humor and romance to give you a highly entertaining and endearing story. I simply love the feels that her characters and stories capture and the laughs! Yes, the laughs!
This second book, like the first, can be read as a standalone although the characters do cross over from one book to another. In this one, we have Natalie Grayson, a big ad executive from New York City and Oscar Mendoza, cheese-maker and owner of Bailey Falls Creamery, nestled in the Hudson Valley.
Natalie's a spitfire. A sexy and confident plus sized woman who has got it going on when it comes to men. Within minutes, she'll have any man eating out of the palm of her hand, except Oscar. This big hunk-o-burning love has featured in many of her fantasies. She's been lusting and dreaming about Oscar for months, with only brief weekly Saturday encounters at the Farmer's Market. But when Natalie gets in front of Oscar all her mojo goes out the window. Rendered speechless and mindless, she bumbles through a funny yet brief verbal weekly dance.
"Brie?""Oh. Yes."
Oscar is the sexy, silent brooding type. But he's noticed Natalie and he too looks forward to their weekly encounters. Natalie jumps at the chance to lead the Bailey Falls account for their tourism campaign and also she's hoping it'll lead to some sexy times with Oscar. These two are unlikely lovers, from different backgrounds and with different tastes (to a point) yet they fall in love. But can this Manhattan chick
and Country boy
last when their lives are not only miles apart but so are their lifestyles?
This was a heartwarming and entertaining read. If you love feel good reads with little to no drama but lots of laughs and sweet times, I recommend you pick up this book.
**ARC provided in exchange for an honest review.**