For the Page brothers, fighting was a way of life. Both inside and outside of the ring. Follow them through hardship, disability, and overwhelming adversity as they fight for the women they love.
Meeting the love of my life at age thirteen was never part of my plan. However, neither was gradually going deaf at the age of twenty-one. They both happened anyway.
Now, I'm on the ropes during the toughest battles of my life.
Fighting the impending silence.
I was a jaded asshole who fell for a girl with a knack for running away. I couldn't even walk but I would have spent a lifetime chasing her.
Now, I'm on the ropes during the toughest battles of my life.
Fighting the shadows of our past.
Fighting to reclaim my future.
Liv was everything to me, but she was never truly mine.
That was going to change.
I lost my first love, but I refused to lose my soulmate.
Now, I'm on the ropes during the toughest battles of my life.
Fighting to be the man she deserves.
Fighting the solitude of our pasts.
Fighting Shadows by Aly Martinez
My rating: 5 of 5 stars
4.5 Stars****
I love a broken hero, they're one of my all time favourites being that there's something so needy yet Fierce about them right? And likewise MMA fighter reads are a guilty pleasure of mine. I love Alpha's, I love sexy moments and I love Independent heroines that these Men seem to attract, I also love the fun that came along in this one even though to be honest it took me the first quarter to get into it....
So What's it about?
I am behind on this series I picked this book up because of all the reasons stated above but I have still yet to pick book one up. I was still able to follow the story so it can still be read as a standalone but I would still advise people to read them in order to understand the bond of Till and Eliza. I will most definitely be reading Fighting Silence in the next week after I finish my last few ARC's that I am going through currently.
Sooo Flint is left unable to walk due to saving Eliza at the end of book one and this book starts straight from that accident.
Flint feels like he's in love with Eliza (his sister in law) and with the fact that Till and Eliza are happily in love and have a new baby plus the aftermath of the accident he feels like his world has been turned upside down, gone is the Fight and in is this new dark, moody and much more of A-Hole Flint. Now I love broken hero's and his world is a very different picture, he's having to learn how to survive and be on his own but he did annoy me slightly at the beginning and it did take longer to warm up to his character.
Ash is a pickpocket that's how she knows how to survive its the only way she gets money and its the way her dad has brought her up yet she is a GOOD person. She is not out to rob people and drain them out right, its a means to live and eat there is no other way even if she wants to go to school, in hindsight right now its all she knows. Paths cross where Flint and Ash become family maybe in not the best of circumstances but they do and in the first quarter Ash teaches Flint how to live and be himself without all the labels that he has put on himself.
Ash teaches Flint how to breathe, have fun and be happy in the darkest of hours...
But honestly it took me a wee while to warm up to his character, saying that once I got past that first quarter it got good I mean really Gooood and Flint fought to be in Ash's life for good...
There was a whole lot of fun times and Ash taught Flint how to laugh again and then later in turn he did the same back to her.
I got a whole lot of this when experiencing moments of sexxyyyyyy....
And then just moments of Alpha equals to B.L.I.S.S when Flint got his ASS into gear!!
I ADORED Ash, she was one kick-Ass heroine I mean she really battled through life except she shone through she made me smile and laugh and enjoy HER. Ash is strong, yet there was a vulnerability about her that Flint was able to catch and pull her to him if you get me? she really did lean on him and him her in equal measure.
What I loved about this story is how the author has given us a couple that find peace and love in each other. They captured my heart because they NEEDED each other. They needed another half and they needed someone who understood what they were going through. This story was frankly refreshing in a way because the author wrote a story about LOVE with a difference. Tt doesn't matter what kind of disability you have the heart wants what the heart wants and that is exactly what Flint and Ash got. They got family in each other. I also enjoyed the dynamics of this whole family and it was great to spend time with Till, Eliza and Quarry and I really can't wait for Q's story to come out next.
Above all this was a really enjoyable read that warmed my heart.
That Is All
ARC Gifted in exchange for an honest review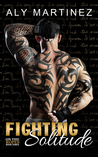 Fighting Solitude by Aly Martinez
My rating: 5 of 5 stars
5 Every. Single. Day Stars
Ohhhh Myyyy Gawddddd I love this series.. Lordy what do I say.. I'm going to be a total FANGIRL here so I totally apologise right now!!
I love this series just because it's not just about the romance but also about family and unity and bonds between sisters, brothers and between each other... I can't explain it other than this is the deal here.
So What's it about?
I have been looking forward to Quarry Pages story ever since I finished fighting Shadows and after the turmoil and pain that Q was in after he lost his girlfriend and Love of his life Mia!! I was gasping for air and dying to see where this went.. So to say I'm happy is an understatement!!
This begins when Quarry and Liv are children at aged 8 they start to develop a friendship and it spans over time till they get to their 20's therefore we get the bigger picture In my opinion this was just the biggest icing on the cake.. For me anyways. I truly felt deep in with these two because your with them every step of the way.. How they lost Mia Together and how they learnt to build their lives Together. But ultimately how they loved each other as friends, as buddies, as Lovers and as Soulmates.. Every. Single. Day
Once that picture was built and I was with them in everything and every decision and emotion. Then I saw them truly as adults once they got there, and also how much they really needed each other.
Liv
Liv does not want to give into her feelings truly as she feels she's letting Mia down and go and is sooo worried and anxious about that. Yet Quarry has ways of making her see sense...
"She was so fucking beautiful.
My cock inside her.
My hand teasing her breast.
Her eyes aimed at me taking her body.
Needy for me.
All fucking mine.
Liv
Quarry
With the Heavyweight Championship title to aim for, to work for, he has a lot on his mind, yet he NEEDS LIV in his life and he undoubtedly unconditionally loves Liv like he needs to breathe. Once Liv is willing to Give them a chance gah it was pure bliss to read.
Guys this is why I loveeee MMA fighter reads, they're raw, Hot, seductive, Alpha heroes and strong Ass men! Yet Aly also knows how to write real emotions and with that combined I 120% have loved this book and this series.. And Quarry was everything I wanted. Really he has a hugeee heart. These two people need each other, their love was just so FULL! That's the only way I can explain it.
So to sum up.. You love Sexy Alpha heroes that need to feel too, love Fiesty heroines that fight to the end in a good way. You like raw sex scenes, friendship, family, love. Then this is your next read.
ARC Generrously gifted in exchange for an honest review