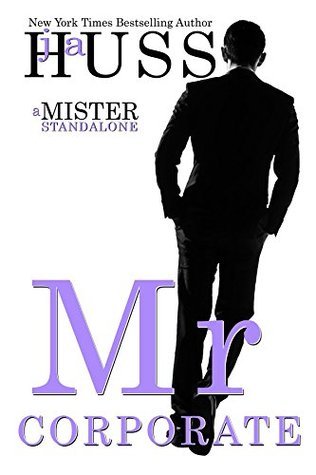 Weston Conrad is the best headhunter in the business. That handsome smile goes a long way towards convincing most people to trust him with their future.
I'm not most people. I'm his direct competition. And it doesn't hurt to be just the kind of woman he's been looking for.
I'm gonna flash you these legs, Weston Conrad.
I'm gonna wear low-cut shirts and micro-mini skirts.
I'm gonna dazzle you with wit and conversation and kiss those lips like they're exactly what I've been waiting for.
So don't hate me when you figure out my secret.
You understand, right? You're Mr. Corporate and this is just business
Someone's fucking with the Misters again, and I seriously want to know who it is and why! This series is about a bunch of guys who met in college. They became inextricably tied to each other and dubbed the misters because of one tragic and public accusation. Now someone's targeted them, again. And it's Weston Conrad's, aka Mr. Corporate, turn.
While the mystery surrounding these men continues to unravel and gets more complicated with the lies, secrets and betrayals, it also got clearer. Or maybe not. You see, if you're a Huss fan, you'll know that nothing is ever as it seems and just when you think you've figured it out, wham! The rug gets pulled out from beneath you!
West, head hunter extraordinaire, and his ex-girlfriend/love of his life, Victoria Arias (Tori), end up vying for the same job. Tori is wild, head-strong and hot-tempered, and sexy.
"Because that's the kind of girl Victoria Arias is. Wild. It's her default setting."
And West certainly is no slouch either.
The serious tension, sexual and otherwise, between West and Tori was verra, verra good and palpable. And the emotions, hot and cold, that ran deep and wide between these two was ever present.
"Too busy looking for what we want and not realizing nearly enough of what we have."
While this was very much about the five misters, it was also very much about West and Tori's past, in more than one way. This was a second chance love story with mystery and intrigue, buried secrets and lies, among other things.
"Everything about Tori and me is real. Except all the things that aren't."
"…there has never been another woman in my life like her and there never will be."
Really enjoyed both Corporate and Tori. Two strong characters who fought hard and loved even harder.
Of course, things come to a head and while more clues are revealed and some things put to rest, we're still left with missing pieces! This is part of the Mister series and while the first four books can be read in any order, Mr. Match should be read as the fifth and final book.
If you haven't meet the Misters, you should. A girl always needs a few more book boyfriends. Although I must say, Mr. Mysterious is mine. #Claimed.
**ARC generously provided by JA Huss in exchange for an honest review.**