September 19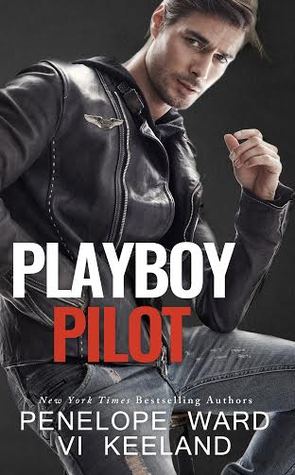 From the New York Times bestselling authors of Stuck-Up Suit andCocky Bastard, comes a sexy new standalone novel.
Money or love? Which would you choose?
You probably just answered the question in your head thinking it's an easy decision.
For me, it's not. Did I mention it's a lot of money? A hell of a lot.
I needed to go far away to think it through.
As I embarked on an impulsive trip, I hit a detour when I met sexy Carter in the airport lounge. We struck up a heated conversation.
Then, he left.
I thought I'd never see him again.
But fate had other plans.
Surprise! He was the pilot of my flight.
The bigger surprise was the adventure that followed after the plane landed.
Carter was dangerous and always on the move.
Even though our connection was magnetic, I knew it was only temporary.
He would give me tickets, and I would follow him around the world to exotic places.
A bevvy of flight attendant exes and rumors about Carter's reputation were never far behind.
I didn't know what to believe.
But I was addicted. Nothing else mattered anymore. And I was going to get hurt. Because a part of me wanted to be the one to finally ground the playboy pilot.
At the very least, he was taking me on a thrilling ride.
All good things must come to an end, right?
Except our ending was one I didn't see coming.
Four beautiful days. Three steamy nights. One breathtaking love.
Levi Michaelson.
He wanted four dates. Four opportunities to prove I could trust him. Four chances to change my mind about him.
I agreed.
Probably not my smartest decision. He was everything I knew to avoid—gorgeous, charming, sexy as hell—but I couldn't help myself. When he touched me the whole world disappeared. I should've known I could lose myself to him, that he could be the one man to destroy me.
I guess it's true what they say—some things are too good to be true. And Levi Michaelson might just be one of them.
Stand-Alone
Sixty-four days in captivity. Sixty-four days to lose yourself—or find yourself.
I'm Ava Donovan. I was abducted at the age of nineteen. I'm told I'm a survivor, but the truth is, I only survived because he saved me. Even when he kept me locked in that room—he saved me.
Constantly wondering when and how you will die, that does something to you. To your mind. But what do you do when it does something to your heart? What do you do when the man holding you captive seems just as broken as you are, when his mere presence becomes a comfort you crave—when you love him even though you shouldn't?
You smile and tell yourself it's okay because love has no morals.
Sixty-four days in captivity gave me a love most people will never have and my freedom took it all away.
Stand-Alone
September 20
I'm good in a boardroom, but I'm better in the bedroom. Much better. I can charm the skirt off any woman in one encounter. I'll even give her an orgasm before I put her in a cab. Or three. No more or she'll start making plans for the future and I'm not into that.
Or I wasn't until Genevive Fasbender. She's the first woman in five years that I want to spend the whole night with. And she's the first woman who's told me I'm not what she wants in a lover, even after multiple O's. She's brash and bold and stubborn as hell, and she doesn't believe it's possible to satisfy her.
But I'm up for the challenge.
And after an incident in my brother's office closet―a downright dirty incident―I think I'm just the guy to deliver.
Genevive Fasbender will never know what's coming.
Chandler is a full-length standalone novel.
Due to strong language and sexual content, this book is not intended for readers under the age of 18.
A new standalone sexy contemporary romance by New York Timesbestselling author Nina Lane!
He may own a candy company, but this wealthy bachelor is no Willy Wonka.
Sugar Rush Candy Company CEO Luke Stone is a devoted businessman who doesn't do relationships. He does short-term affairs with clearly defined rules. But when a sexy bohemian angel propositions him in a bar, Luke is tempted to want more.
Polly Lockhart is horrified when she wakes the morning after her twenty-third birthday to realize she made a fool of herself with a sinfully delicious man. She tells herself she doesn't have time for romance anyway, as she's fighting to keep her mother's beloved bakery afloat and finish her culinary studies. That all changes when her class tours the famed Sugar Rush headquarters, and Polly collides with her dream man again.
Moments.
Our lives are a collection of moments. Some utterly painful and full of yesterday's hurts. Some beautifully hopeful and full of tomorrow's promises.
I've had many moments in my lifetime, moments that changed me, challenged me. Moments that scared me and engulfed me. However, the biggest ones—the most heartbreaking and breathtaking ones—all included him.
I was ten years old when I lost my voice. A piece of me was stolen away, and the only person who could truly hear my silence was Brooks Griffin. He was the light during my dark days, the promise of tomorrow, until tragedy found him. Tragedy that eventually drowned him in a sea of memories.
This is the story of a boy and girl who loved each other, but didn't love themselves. A story of life and death. Of love and broken promises.
(Book Three in the Elements Series. Complete Standalone. Coming Fall 2016.)
He's her patient. She's his doctor. They shouldn't. But God, do they want to.
Camden Harris, the famously hot, hulk of a footballer is laid up in a London hospital. But his busted knee doesn't stop him from running his well-practiced game on Indie Porter—his redheaded spitfire of a doctor. She's not his type, not even close. But she could be the perfect distraction from the soul-crushing damage this injury could cost him.
Indie's tired of her naivety putting a target on her back. As a gifted child, she's let her education take the front seat her whole life. But a fling with a footballer like Camden might be just what she needs to grab life by the balls.
And he could be the perfect guy for the plan she's been sitting on for over two years.
But when feelings make a final play, there's no amount of medicine that can heal the damage to their hearts.