Release Date: September 13th, 2016
Genre: New Adult Romance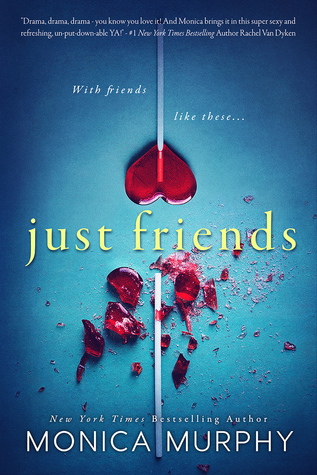 It's the end of summer. Just before I start senior year with my two best friends in the whole world. Dustin and Emily are everything to me. We've been inseparable since middle school, and when we're together, nothing can go wrong.
But things aren't always what they seem. Em's turned into a drunken mess who parties too much. Dustin and I have hooked up a few times—and now he's ready to take our relationship to the next level. Yet I'm not sure I want things to change. I'm scared if I take it any further with Dustin, our friendship will be ruined forever. Then there's Ryan. The new guy. He's hot. He flirts way too much. And Em has totally set her sights on him.
So when my best friend betrays me in the worst possible way, guess who's there to help me pick up the pieces of my broken heart? Ryan. But he's so confusing. Annoying. Sweet. Sexy. I want to trust him, yet he makes it so hard. What I really want is for everything to go back to the way it was before.
Before I found out that best friends make the worst kind of enemies.
4 confusing as hell stars
Freaking hell, what have I just read?? I don't even know what to say... First off it kind of felt like being in high school getting mixed up in the wrong crowd and not knowing what to do about it? Mmmm and friends, (not the best kind of friends because they rile you up the wrong way) but friends all the same. Yet this also unputtadownable and addictive.. I read late. But ohhhh MYYY godddd how annoying are these characters..
So what's it about?
Olivia/Liv had a summer away from her best friends to spend with her dad and on her return hoping to enjoy some time with her friends whom she's missed she is met with Em. But a different Em, a party Em who drinks, smokes and sleeps and messes around with the new football guy Ryan.
Gah Ryan is a douchebag, an asshole he goes after what he wants, he plays the game but he is also sweet at the same time. The perfect mix for the new footballer in town YESS?? One to mix the dynamics a tad yes??
And then there's Dustin who is 'just friends' but more and then the one who hurt her...
Will she won't she will she won't she...
I actually can't say I like Livvy that much she was In the middle of this train wreck.... Making bad choices, no communication with her friends but worrying herself silly.
That said, she has a new friend Amanda that kind of reminds me of the girl in American Pie who's in Band camp!! The likeable friend... So there's a tiny bit of leverage in this read. Something to breathe just a tad...
So anyway yeh I'm a tad confused by this story, it reminds me of high school, making friends and unmaking friends. A book of lessons I suppose, it's the course of growing up.. But it's one hell of a ride, heartbreaking, exciting, thrilling. And actually unputtadownable but you will get riled up in the process. And the stories not quite completed yet... So I'm praying they'll grow up a tad in the next book.
Lastly I will say I did enjoy it, this is my first Monica Murphy book and it won't be my last it just gave me a whole dose of the feels.
Enjoy xo
Monica Murphy is the New York Times, USA Today and #1 international bestselling author of the One Week Girlfriend series, the Billionaire Bachelors and The Rules series. Her books have been translated in almost a dozen languages and has sold over one million copies worldwide. She is both self-published and published by Random House/Bantam and Harper Collins/Avon. She writes new adult, young adult and contemporary romance.
She is a wife and a mother of three who lives in central California on fourteen acres in the middle of nowhere along with their one dog and too many cats. A self-confessed workaholic, when she's not writing, she's reading or hanging out with her husband and kids. She's a firm believer in happy endings, though she will admit to putting her characters through angst-filled moments before they finally get that hard won HEA.
Connect with Monica: