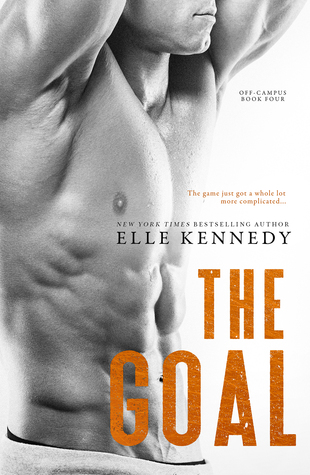 She's good at achieving her goals…
College senior Sabrina James has her whole future planned out: graduate from college, kick butt in law school, and land a high-paying job at a cutthroat firm. Her path to escaping her shameful past certainly doesn't include a gorgeous hockey player who believes in love at first sight. One night of sizzling heat and surprising tenderness is all she's willing to give John Tucker, but sometimes, one night is all it takes for your entire life to change.
But the game just got a whole lot more complicated
Tucker believes being a team player is as important as being the star. On the ice, he's fine staying out of the spotlight, but when it comes to becoming a daddy at the age of twenty-two, he refuses to be a bench warmer. It doesn't hurt that the soon-to-be mother of his child is beautiful, whip-smart, and keeps him on his toes. The problem is, Sabrina's heart is locked up tight, and the fiery brunette is too stubborn to accept his help. If he wants a life with the woman of his dreams, he'll have to convince her that some goals can only be made with an assist.
Well one thing for sure Elle Kennedy didn't make Sabrina&Tuck's story an easy one. While I was wary about the pregnancy I can reassure those like me that this is not the main focus of the story. While it takes a major part, I was glad to see we had to witness how our MC falls in love with each other.
Sabrina lives to succeed her life. She nevers had it easy without parents to help her. She lives with her stepfather who's gross and her grandmother who's as supportive as she can be. She has two jobs and she plans to enter Harvard.
You already know Tucker if you've read Elle's off campus series. If not, know that he's an hockey player at Briar. His goal is not to go pro but to open his own business back home near his mom who raised him.
I enjoyed The Goal right away because I could relate to Sabrina. She has not many friends, she's selective and she has a real purpose in life. She can't resist Tucker because obviously he's a good looking athlete and he's good in bed
Tucker is the one who stole the show. I don't think I've read an hero with that much sweetness and patience in his bones. He understand how Sabrina works and he know that to push her is not a possibility. So while he's sure he wants a relationship with her, he let her decide at her own pace what she wants.
At some point I have to admit, it bugged me a little because I thought she played coy a little too much but I can only respect how Elle sticked to her character.
I'm a little sad because I have a feeling this was the last book of this amazing series. I wouldn't say no to more and to Fritz story.... Maybe introducing a new series?
~Arc provided in exchange of an honest review ~
I love love love Sports romances, I mean really they take me back to being at college, exploring my youth and that whole time was a good time for me and so I love to capture that again.. this one though I really enjoyed because in truth in my honest opinion has got to be the most real story I've read off Elle to date.
So what's it about?
Tucker is playing hockey at Briars and looking forward to new experiences, and Sabrina is the stand offish girl that 'cough' has had and is the one Dean hates in the Score... buttttt enter Tuck and there is something that both Sabrina and Tucker want and let's face it, it's to let go and forget and they're in it for that alone.. we'll kind of because Tucker sure has a heart of gold..
Sabrina though in previous books is deemed as the cold heartless cow with no emotion, but she's GOAL orientated and that's all she aims to give.. yet what you didn't know in the previous books that I got from this one was her vulnerability. She just needed to be loved in truth.
Her life, her past, her experiences are very real
and so as a reader I did get annoyed with her actions at times but I understood why she chose the path she chose and how she got there in the end.
I suppose what I'm saying is although this is a sports romance, with many sexy times and Tuckers dirty mouth and COCK were beauttttiifulllll to read LOL this was an emotional book, full of lots of heartfelt moments and a couple that just fell in love and I love to love these kind of reads so I'll definitely recommend it.
Why not 5
Ok this is a longggg book, there is a lot that went on that IMO didn't all have to be there. And also what was stated in the blurb I wished that wasn't revealed I kind of get why it was but I was waiting for it to happen. Yet as I read it I still loved their relationship thrive and blossom. This was definitely a slow burn read but it took time to get there....
Overall I love Elle Kennedy and I ADORE this series and I'm hoping for more to come from her in the future. FITZY MAYBE??
Enjoy Xo
ARC generously gifted in exchange for an honest review