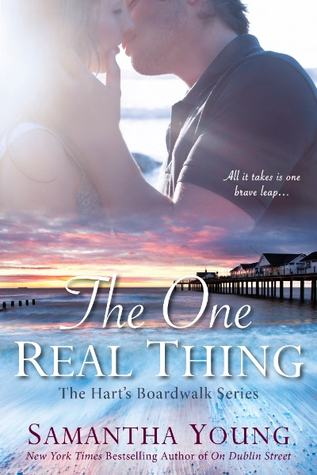 Welcome to Hartwell, a quiet seaside escape where uncovering old secrets could lead one woman to discover the meaning of a love that lasts…
While Doctor Jessica Huntington engages with the inmates at the women's correctional facility where she works, she's always careful to avoid emotional attachments in her personal life. Loss and betrayal taught her that lesson long ago. But when she comes across a set of old love letters in the prison's library and visits the picturesque town of Hartwell to deliver them to their intended recipient, she finds herself unable to resist the town's charm—and her attraction to the sexy owner of a local bar proves equally hard to deny.
Since his divorce from his unfaithful ex-wife, Cooper Lawson has focused on what really matters: his family and the boardwalk pub they've owned for generations. But the first time Jessica steps into his bar, Cooper is beyond tempted to risk his heart on her. Yet as their attraction grows hotter and Jessica remains stubbornly closed off, he begins to realize it will take more than just passion to convince her there's only one real thing in life worth fighting for….
I fell in love with one of the most beautiful story, and not just a love story, nope the entire book.
Samantha Young is as usual a wonderful storyteller. She has the incredible ability to make you crave for more. I coudln't have enough of what is happening on the boardwalk. I couldn't get enough of Cooper and Jessica.
I've read most of Samantha's on Dublin streets series and like most I was enthralled by Braden but trust me when I say there are many crushes waiting for you in Hartwell. There are so much potential with this little town, I'm already excited to know we have books to come for the next few years - Bailey
(view spoiler)
[ and Vaughn of course (hide spoiler)]
and Emery are obvious but I want books for Ollie, Liv and Riley too. Dare I say I want Jake more than anything?
But back to Jessica and Cooper.
To say love was not easy with these two is an understatement. Jessica is a busy doctor who had build walls around her heart and around herself. She has no real friends expect for Matthew, her childhood friend. When she find the letters, she is deeply touched. Little she knows that the journey to Hartwell is going to change her life.
Jessica was a character I clicked immediately with. She is sweet, tough and has always been focus on her work. It was a delight to see her let loose a bit and enjoy an easy life.
Cooper, owner of a bar is an upset man. He has been betrayed by his ex-wife but most importantly by his best friend. That leaves him in a position where love has no real room but he quickly change his mind when a small tingle got his attention.
The One Real Thing is a delicious slow burn. Samantha gives us all the ingredients to be captivated by every little aspect of her book. And it works perfectly well. Sweet, sexy, endearing I don't have enough qualifying words to say how this is so worth it. The friendship formed feel real, it could happen to you and that's the beauty of this book.
I have to wait until March 2017 to get the second book but I would give anything to have a sneak peek soon.
4.25 Doc Stars
"It's never too late to change the road that you're on."
Have you ever been at a part in your life where you are feeling lost maybe? Tired? Stuck in one place, not really moving forward? Well that's how Jessica feels like.
Jess is a Doctor, a doctor at a lady's prison facility. She works in a place where she feels like she is needed. She helps, and maybe even tries to understand them. Yet she never does anything for herself. That is until she finds a set of letters from 40 years prior and somehow they make her feel like she needs more out of life. So off she goes to a small town and a tourist town that holds real character and depth into the surroundings and people who live there. She decides it's time to take a break for 3 weeks off she goes.
Cooper owns the local bar and jess stumbles into Cooper on one rainy morning. Where they find something in each other they both need.
This is the kind of book that takes you to an unknown world, or to travel and feel what the characters feel while they're drinking their coffee, reading their books. Chatting to the locals, making friends. Loving life. Living and breathing for the first time in a while.. I suppose how anyone does when they just step back from life In general..
And then Cooper the charming bar owner and the caring loving man that he is, finds something in Jess that he wants to explore.. And well she may as well enjoy it just a little, if only she took the chance.
This was a great summer read for me. It's about taking chances, and enjoying and finding a place in the world. In some ways it had the same kind of feel as on Dublin Street but then not in others. I loved the characters, the friendships that were formed. And more so I want to find out about more maybe in future books in this series.
But I LOVED both Cooper and Jessica/Doc and their gradual friendship to relationship form.. And then read the chemistry and sex explode in front of my eyes cause boy there are some HOT steamy moments, some anguish and anxious times in the mix when real life wants to mix with the fantasy I suppose.
The only issue I had was that this wasn't all that realistic, it is fiction at its best. And it is read in third person. I prefer to read it through them rather than around them. That's just me, that said I think it was done well. But it's not my favourite way to read so at times I felt slightly detached. Again MY ISSUE and I will highly recommend it to any Sam Young lover. She did good, I went into a world where I love to visit. It kind of reminded me of Cornwall (if you live in the UK then you'll know) if not it's a pretty seaside place that has pretty beaches, where you can eat scones and drink cream tea. It had that kind of feel and I always love to go there.. And I suppose you get to enjoy what it's like to LIVE in that town rather than be the tourist that we usually are.
I'd had no idea how much I was missing a sense of serenity in my life.
Enjoy Xo