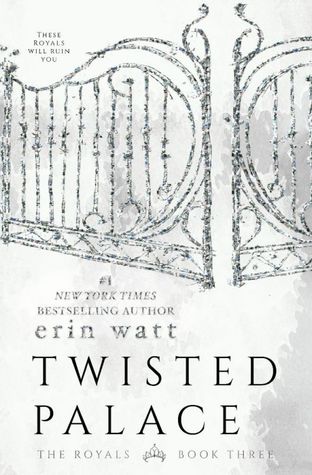 These Royals will ruin you…
From mortal enemies to unexpected allies, two teenagers try to protect everything that matters most.
Ella Harper has met every challenge that life has thrown her way. She's tough, resilient, and willing to do whatever it takes to defend the people she loves, but the challenge of a long-lost father and a boyfriend whose life is on the line might be too much for even Ella to overcome.
Reed Royal has a quick temper and even faster fists. But his tendency to meet every obstacle with violence has finally caught up with him. If he wants to save himself and the girl he loves, he'll need to rise above his tortured past and tarnished reputation.
No one believes Ella can survive the Royals. Everyone is sure Reed will destroy them all.
They may be right.
With everything and everyone conspiring to keep them apart, Ella and Reed must find a way to beat the law, save their families, and unravel all the secrets in their Twisted Palace.
---------------
Q: Are you trying to kill us?
No, but we love Ella so much and her adventures with the Royals that we needed to write this third book. You'll see when you read it.
Q: Who's in this book? And don't say Ella!
Ella, the five Royal brothers, and a few more huge surprises.
It's hard to believe that Ella and Reed's story is over. Erin Watt's Royals was one of those series that hits you over the head. It's definitely among my fav series for the year because while it was a total over-the-top soap opera cliche, I loved it!
I found this last book in Ella and Reed's story had a different vibe from the other two and perhaps it was because it was the end. Things had to be wrapped up so there was a lot of focus on Brooke's murder, Reed's charges and the return of Steve. Yet, it felt like some things were rushed or a little too convenient. I wasn't shocked at all. In fact, I figured out the end before it was revealed. And while it was all fine, I just missed a bit of that wild ride and the 'rug pulled out from under me' feel that I'd come to rely on from MY Royals.
I simply loved Ella, my tough cookie. And I really enjoyed experiencing the growth and development of both Ella and Reed, and the transformation of the Royal clan from that first day when Ella stood at their doorstep till now. The growth of them as a family was heart-warming. And I must thank Erin for the plethora of people there were to hate even though, in this book, we got to see another side of some of them. Excuse me while I do this (I just must)...Brooke, Rachel, Dinah, Daniel, Grier, Abby,
(view spoiler)
[Steve (hide spoiler)]
...
While this was Ella and Reed's book, I'd hoped for some bread crumbs as to Easton's tale. We got a little tease but I wanted more to keep me hanging. So, Erin, I want more. Yes, this wasn't enough. I NEED East's book like yesterday!
Elle, Jen…
**ARC generously provided by the authors in exchange for an honest review.**
First of all I'm just going to state how much this series means to me. I mean this series AS A WHOLE is a real getaway, if you want to check out of living and absorb words and live in a different place then this is sure a series that will get you there. Angst, friendships, love, school, boys, gah everything. And boy are Elle and Jen two authors to be reckoned with. I will forever read anything they write in the future cause solely they're fab together they are the perfect mix.
I'm not going to explain the plot here cause frankly you need to read it yourselves, enjoy it, get angry, sit at the edge of your seat and work out what's happening yourself. What I will say is this book is the icing on the cake. It is about Reed and Ella first and foremost and their love, their relationship. Whatever they have to tackle, they do it together. But by god expect lots angry rants, cause they tackle a lot in this one.
If you love books that are full on angst, books that are about booze, sex, bitchy girls, feisty kickass heroines. And a Reed who although to begin with has a love hate relationship with Ella he sure becomes the protective hero that we want to see. I really can't recommend this series enough.
This book has a very different feel to the other books, I missed the banter between the Royal boys and Callum wasn't a big part of this story. That said I'm looking forward to more books about these boys! 'Cough' Easton, 'Cough' Gideon<<<< I especially have big expectations for that one... oh the sweet delicious angst.
Above all though I love to love the Love/Hate trope and this sure is something completely different than anything I've read before. I've adored Reed and Ella's journey, the way they fell in love, the way they acted and the way they coped. It will keep you on your toes and this last book kept me going until the last pages.
Enjoy Xo
ARC generously gifted in exchange for an honest review