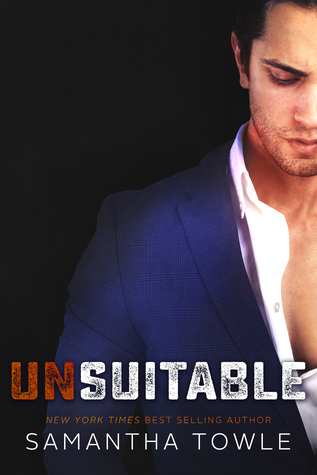 From New York Times bestselling author, Samantha Towle, comes a new sexy, romantic suspense standalone novel...
Daisy Smith has spent eighteen months of her life paying for a crime she didn't commit. Now out of prison, she has only one focus—to get back custody of her younger brother, Jesse, who is deep in the foster care system. Desperate to rebuild her life and show the system that she is responsible enough to care for Jesse, she takes on the only job available to her—working as a maid at the Matis Estate.
On day one of her new job, Daisy meets Kastor Matis, the only son of the owners and her new boss. An enigmatic, handsome Greek god of a man, Kas is closed off, cold, and…well, kind of a bastard.
The more time Daisy spends around Kas, she starts to see there might be more to him than just his cold, bastard ways. He may actually have a heart beating in that frozen chest of his.
But Kas has secrets, too. Secrets that he's determined to keep.
Secrets make Daisy curious.
And you know what curiosity can do
Omg omg Sam has outdone herself here. I love sams books she does emotional, angst in the best way and raw love and well we totally got her best here... I am not joking when I say I haven't been reading a great amount recently that said once I started this I couldn't stop until I finished, it was delicious and unputtadownable..
So what's it about?
Daisy has spent the last 18 months paying her time in prison for a crime is didn't commit. She lost her little brother Jesse and everything she had and was now she's out its time to get her family back. So she gets a job as a maid on an estate with the one and only 'Kas'....
Kas Kas Kas is a lovable asshole.
Kas-hole
he has given Daisy a job, a mindless job but a job is a job and she is a hard worker. But Kas-hole has that name because he isn't nice to Daisy at the beginning, there is definitely a love/hate thing going on here. Thing is Daisy is gorgeous and Kas is HAWT with lots of angry tension so ummmm that equals to lots of arguments that yes I wanted them to get together.... butttt Daisy is doing all this for her family she needs to keep Jesse, she needs to get him back. She needs to gain the respect of everyone who's important around her. So she's 'trying' to be professional in the best way...
Gah what I loved about this without giving anything away is the way Samantha pulled at my heart. It felt so real while reading the 30% mark, the 60% and the 90% mark there are certain parts that had me in floods of tears. There was moments of angst, moments of emotional pain. Moments of lust and down right sexyness. Yet there was true LOVE throughout the story. This book was a story about two broken half's that made a whole. And I'll be holding these characters close to my heart for a good while.
There was a good plot integrated into this love story, and I'll tell you that Sam put this story together so very well. It's different that anything she's written before. I cannot tell you anymore but it was brave for her yet she pulled it off soooo very well.. omg I have tears just thinking about it. I am surely involved in both characters and their outcomes. I loved every page and word that was poured into this book. And if nothing else it'll make you feel...
Read it people. YOU WILL NOT REGRET IT!
Enjoy Xoxo
ARC generously gifted via the author in exchange for an honest review
Samantha Towle is a New York Times, USA Today, and Wall Street Journal bestselling author. She began her first novel in 2008 while on maternity leave. She completed the manuscript five months later and hasn't stopped writing since.
She is the author of contemporary romances, The Storm Series and The Revved Series, and stand-alones, Trouble, When I Was Yours, The Ending I Want, and Sacking the Quarterback, which was written with James Patterson. She has also written paranormal romances, The Bringer and The Alexandra Jones Series. All of her books are penned to the tunes of The Killers, Kings of Leon, Adele, The Doors, Oasis, Fleetwood Mac, Lana Del Rey, and more of her favorite musicians.
A native of Hull and a graduate of Salford University, she lives with her husband, Craig, in East Yorkshire with their son and daughter.