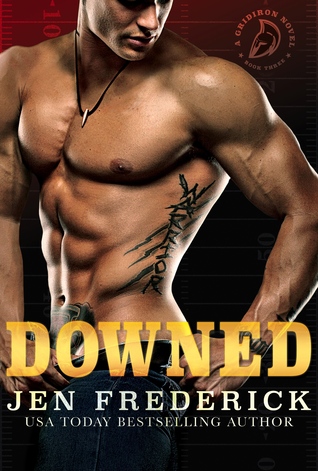 He's the guy no one likes…

Despite winning two national championships, JR "Ace" Anderson was sent packing from his old school after losing the trust of his coach. At Southern U, he has a second chance to prove that his college legacy isn't endless debauchery and selfishness. But his reputation precedes him, and his teammates offer a chilly welcome in the locker room. The one person who is willing to accept him is the very woman he should stay away from—his new coach's daughter.

She's the girl everyone loves…

Bryant Johnson's only goal in life is to make others happy, even at her own expense. One look at her father's new star quarterback, and she knows that Ace is her next project. With a reputation for being a "jerk whisperer", Bryant has spent her last three years at college reforming sorry behavior and turning bad boys into the best boyfriends ever. In Ace, though, she's met with surly resistance and a sizzling attraction she doesn't expect. Fixing this wounded warrior will be her biggest challenge yet. Not falling for him will be even harder.

Between her big heart and his damaged one, a battle is ensuing. In this game of love, every defense will crumble.
Ace was the last men I expected to have his own story so soon. Yet Jen Frederick chose him for his next book in the Gridiron series. And damn that was a perfect move!
After Sacked I wanted Ace's story so much because what is not to love in a good asshole? After Jockblocked I wasn't so sure anymore. Was he really redeemable?
Nonetheless I was thrilled he got his book! Hell yeah!! I wanted him to suffer, to grovel maybe. I wanted him to understand what it was to fall in love and work for it!
For those who start this series with Downed, I say go for it! It's a perfect start and a way to have no bias against the guy. You'll get a better version of him and that's just as good.
"This year, my senior year, I'm trying to be... better, I guess? I'm still an asshole, and I still don't give a shit about many people, but I'm not falling into hold habits. Or at least, I'm trying no to"
JR" Ace" Anderson is in a new team after being kicked out of his last one. He has the chance to start fresh, to get back to his Quarterback position and just rocked his last season. He is a guy there to win and his focus is solely on football. He already won two championships and his experience might be good for the team... Only if his team would listen to him; and that's not going to happen anytime soon. His reputation precedes him and his new teammates hold a certain grudge against him.
Bryant Johnson is the Coach's daughter and is around a lot. She will be there even more because she chooses Ace as a new" project". See this girl as a weird habit to date guys to make them more "date material". She tries to make them quit their asshole ways and be a perfect gentleman. And who is more asshole than the others?
I see you're following.
I know I have a good book when it can capture my attention within the 10%. It can be with lots of things and Downed was with a good laugh. The way Bryant is acting and the way Ace can't even believe he's letting himself treat that way is too damn funny!
The attraction between these two was quick and delightful. To see Ace fall was just perfect. He surprises me in so many ways. This is a grown version of himself and I loved it a lot. He couldn't have found a better match than Bryant.
Both are fooling themselves to believe this is just for the greater good. Their defences are crumbling down like ice in the sun. They way they fall in love were refreshing and totally unexpected.
Jen Frederick made this story pleasant and funny in so many ways. Ace is still acting like an asshole at times but he's sweet, endearing and hot as hell! Who doesn't love a sexy sport romance with hot football players?
Once again, you'll be fully immerse in the football universe and fans or non fans would be happy to discover all the behind the scenes.
In case you need any more convincing, Downed was a story about finding your true self, about friendship and real unbreakable bonds, about trust in yourself and others, about making you feel good and see your deserve happiness, but even more so take a chance at love when you haven't expected it, when you haven't see it coming and when you need to take a chance because it's the right time.
" I'm still an asshole, but I like to think that these days I'm a lovable one. Or, at least one person in particular loves my asshole self."
~ ARC provided by the author in exchange of an honest review~
BEST OF THE SERIES YET. Oh my gosh this was my fav, Ace, ace, ace. How I hated him after Jockblocked yet Jen Frederick wooed me with her magic and here I am in love with the Arsehole... Pure sports romance Gold is what this book is!!
So what's it about?
Ace is starting new in a new college team, new life, new start! A fresh slate, he ultimately just wants to put his head down and win a championship within his new team as the QB! Well that is until Bryant makes him his new project and in project I mean make him into the loving and caring man he is. Just show his true potential until he's at a point he can be the perfect boyfriend for someone else. See where that's going? So I'll leave the rest for you to enjoy yourself but I will explain why I loved this so much...
Bryant
OMG what a quirky sexy and lovable heroine. She was soooo funny and enjoyable to read. But she's very selfless and wants to please everyone else but herself. There is a vulnerability about her yet she's built a wall up that Ace is enjoying pulling down. I think though what I loved about her was her free giving nature, her easy exterior and that she was a family girl that loved BIG.
Ace
Ace, the guy you will of detested back in Jockblocked is still an ASS yet that's just his personally, he just wants to be accepted by his team and be included in his unit. He's arrogant, mouthy, DIRTY MOUTHED which I LOVEDDDDD reading. But he is also caring to Bryant, he loves the people that are important and has no room for anyone else.. but hey who cares about that right?? I loved loved loved him..
So all in all this was just a great page turner, character built story and a fun laughable read too...
Kisses, Enjoy Xo
ARC generously gifted in exchange for an honest review