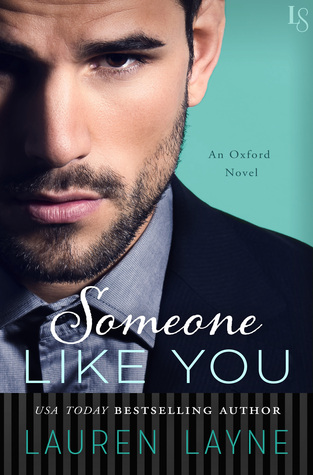 Lauren Layne's bestselling Oxford Series continues with the poignant, heartwarming story of New York's most eligible bachelor, Lincoln Mathis, a man who's living a lie—until his dream woman takes away the pain.
Lincoln Mathis doesn't hide his reputation as Manhattan's ultimate playboy. In fact, he cultivates it. But behind every flirtatious smile, each provocative quip, there's a secret that Lincoln's hiding from even his closest friends—a tragedy from his past that holds his heart quietly captive. Lincoln knows what he wants: someone like Daisy Sinclair, the sassy, off-limits bridesmaid he can't take his eyes off at his best friend's wedding. He also knows that she's everything he can never have.
After a devastating divorce, Daisy doesn't need anyone to warn her off the charming best man at her sister's wedding. One look at the breathtakingly hot Lincoln Mathis and she knows that he's exactly the type of man she should avoid. But when Daisy stumbles upon Lincoln's secret, she realizes there's more to the charming playboy than meets the eye. And suddenly Daisy and Lincoln find their lives helplessly entwined in a journey that will either heal their damaged souls . . . or destroy them forever.
SPOILER FREE REVIEW
It's been since Trouble with Love, the last book in the Stiletto series that I wanted Lincoln Mathis' book. And now that I read it, I'm over the moon! It's been so long since I imagine his HEA, not really knowing what to expect under his playboy ways. It was either a game or it was some sort of protection.
Reading more than a 100 books a year makes me harsher with books the more I read them but Someone Like you was just the way it should be. It's really hard to not spoil anything and still makes you want to read the book.
I know those who are already familiar with the Oxford guys don't need any more incentive. Lincoln is a charming character, easy on the eye with all the smooth talk a playboy has. He seduces women just by breathing. He knows it, he acts on it and he keeps his court as friends. Everyone around him wonders how he does it and you're about to find out while reading.
Here I'm rambling about Lincoln while there was also Daisy, Emma's twin sister. She was really the prefect match for him. She doesn't fall for his ways. She has been warned to stay away from him and even if she doesn't listen there's no need because she is far from being ready to trust a man with her heart anytime soon.

"Do you ever wonder how you're supposed to know when it's time to get back on the horse?" she asked, fiddling with the cocktail napkin. "Like how do you know when you're living in the past, versus giving yourself time to heal?"
An easy friendship forms between these two. They are both damaged to a certain level and they both will try to cope and recover their own way. Feelings are raw, powerful and very real.
Someone Like You was really fantastic through and through. It has the perfect pace for their undeniable and unusual connection. I laughed, swooned, I was moved and I couldn't get enough. Chapter22 was the best! I even re-read it two times.
It was also fantastic to get back to the Stillettos&Oxford bunch. There form one big family now and I have to admit it's not always easy to keep up with all of them but it feels good to know all's good in their own HEA.
Now I know with Nike & Taylor, there are still more books to come and I can't wait to find out.
~ ARC provided by the publisher in exchange for an honest review ~