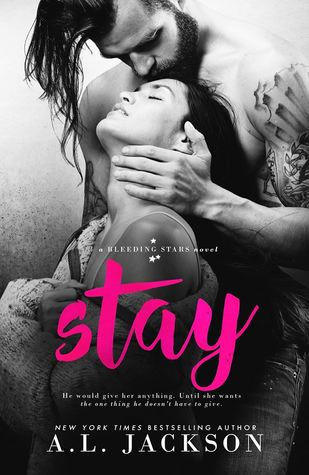 From NYT & USA Today Bestselling Author A.L. Jackson comes the next sexy, gripping Bleeding Stars Stand-Alone Novel…
I'm Ash Evans.
The life of the party.
Hot. Rich. Charismatic.
A tattooed rock star with the world at my feet.
I burn through women faster than the strike of a match.
I've embraced my lifestyle and live it to the fullest.
Until the day my lifestyle caught up to me.
Willow Langston found me at my lowest.
Literally.
Facedown in a puddle of my own blood.
I owe her my life and I have three months to repay that debt.
What I never should have done was touch her. Kiss her. Take her to my bed.
Love wasn't supposed to be a part of the equation.
I gave up that nasty complication a long damned time ago.
Now I want her more than my next breath.
But she doesn't know what I know.
Do I leave to protect her? Or can I face my demons and ask her to Stay?

"Never mistake broken for weak."
I haven't read an AL Jackson book for along time, and so kind of forgot the magic she brings to her words and stories.. although this took a chapter or two to get into it once I was hooked that was it. I stayed up until after 2am to finish it.. which basically means I loved... LOL
Ok so what's it about?
Ash is part of a worldwide known band but he's also the easy one, the joker of sorts. He's full of life, full of fun and goes after easy times. He's happy to give women his time but it's never special, it's easy and simple and that's that. But then one night he gets himself into trouble and Willow finds him nearly at deaths door and saves his life...
And that's where things change and Ash wants to give back to Willow something she's given him... there is attraction but Ash can't give himself wholly and Willow only ever sleeps with the men she is in love with.
Let's talk about Willow for a moment shall we?
Willow has lost a lot of people she loves in her life and her absolute fear is being alone.. see Willow is full of love, if there ever was a female character I loved then Gah Willow is EASY to Love. She has lots of it and what Ash and Willow begins with grows into something more, something special and something for THEM.
I really want you guys to enjoy this the way I did. But know I devoured this, I think band and music themed reads are one of my absolute favourites. As you get those moments of unity within the band and group and family and pure familiarity 'you know' care and devotion between them all and this one really grew on me, the more I read the more I loved it.
I suppose ultimately it's about one who thinks he doesn't need love, and one who has a lot of love to give and that in itself is a beautiful read, it was fun, easy, sexy, and then emotional and unputtadownable.
On a side note this is part of the Bleeding Stars series but I read this as a standalone. So your good to go, I really want to catch up with the other books in this series though as I enjoyed this one so much...
Enjoy Xoxo
ARC generously gifted in exchange for a honest review
---
Giveaway
---

---
Connect with A.L.