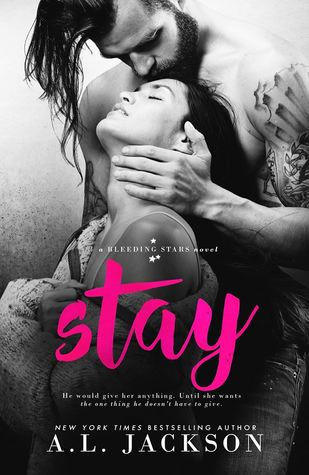 From NYT & USA Today Bestselling Author A.L. Jackson comes the next sexy, gripping Bleeding Stars Stand-Alone Novel…
I'm Ash Evans.
The life of the party.
Hot. Rich. Charismatic.
A tattooed rock star with the world at my feet.
I burn through women faster than the strike of a match.
I've embraced my lifestyle and live it to the fullest.
Until the day my lifestyle caught up to me.
Willow Langston found me at my lowest.
Literally.
Facedown in a puddle of my own blood.
I owe her my life and I have three months to repay that debt.
What I never should have done was touch her. Kiss her. Take her to my bed.
Love wasn't supposed to be a part of the equation.
I gave up that nasty complication a long damned time ago.
Now I want her more than my next breath.
But she doesn't know what I know.
Do I leave to protect her? Or can I face my demons and ask her to Stay?
Bleeding Stars series: http://amzn.to/2jFxyFv
The last time I saw my best friend's younger brother, he was a geek wearing braces. But when Cannon shows up to crash in my spare room, I get a swift reality check.
Now twenty-four, he's broad shouldered and masculine, and so sinfully sexy, I want to climb him like the jungle gyms we used to enjoy. At six-foot-something with lean muscles hiding under his T-shirt, a deep sexy voice, and full lips that pull into a smirk when he studies me, he's pure temptation.
Fresh out of a messy breakup, he doesn't want any entanglements. But I can resist, right?
I'm holding strong until the third night of our new arrangement when we get drunk and he confesses his biggest secret of all: he's cursed when it comes to sex. Apparently he's a god in bed, and women instantly fall in love with him.
I'm calling bullshit. In fact, I'm going to prove him wrong, and if I rack up a few much-needed orgasms in the process, all the better.
There's no way I'm going to fall in love with Cannon. But once we start…I realize betting against him may have been the biggest mistake of my life.
THE ROOM MATE is a full-length standalone romance.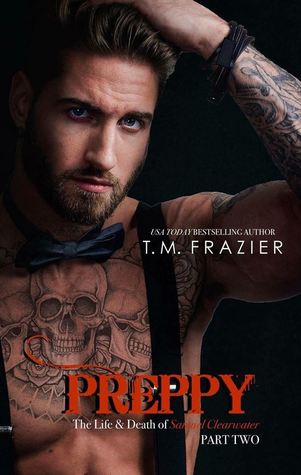 Preppy finds himself back in a world he once loved, but no longer recognizes. His dim smile can't hide his inner turmoil and the people he views as family all suddenly feel like polite strangers.
Except for one person. A girl with dark eyes and even darker hair.
A girl who isn't even an option.
At least, not anymore.
Dre can't decide who she's going to listen to. Her heart, her head, or her body. Because two out of those three things have her heading right back to Logan's Beach. Closure is what she tells herself she's seeking, but when she unlocks doors that were never meant to be opened she soon discovers that when it comes to Samuel Clearwater, closure might NEVER be an option.
This is book six in the King Series and the second part of Preppy and Dre's story.
King series: http://amzn.to/2k7usXC
There's no such thing as a little in love…

Elle Wheaten's priorities: friends, career, and kick-ass shoes. Then there's the muscular wall of stubbornness that's security expert Archer Hunt—who comes before everything else. No point in telling Mr. "Feels-Free Zone" that, though. Elle will just see other men until she gets over Archer . . . which should only take a lifetime . . .

There's no such thing as a little in lust…

Archer's wanted the best for Elle ever since he sacrificed his law-enforcement career to save her. But now that she's earned happiness and success, Archer just wants Elle 24/7. Their chemistry could start the next San Francisco Earthquake, and Archer doesn't want to be responsible for the damage. The alternative? Watch her go out with guys who aren't him . . .

There is such a thing as…

As far as Archer's concerned, nobody is good enough for Elle. But when he sets out to prove it by sabotaging her dates, she gets mad—and things get hot as hell. Now Archer has a new mission: prove to Elle that her perfect man has been here all along…
CHARMED FOR LIFE?

Thanos Agapiou has always been a charmer. For over two millennia, the vampire had no problem acquiring whom and what he wanted with a flash of his handsome smile. He took for granted the boyish good looks he presumed he'd possess for the rest of eternity.

How very wrong he was.

A nearly fatal attack distorted his entire existence. With his appearance now matching the title many have bestowed their kind—monster—he hides away from the world and all of those who know him, including his Ancient, Eton.
Until one night when a stranger draws him out from the shadows.

OR CURSED FOR ETERNITY?

Ever since Paris Antoniou was thrust into a world of vampires, his reality has become stranger than the history and the myths he's studied for the past decade.

When he learns the truth about his origins and the power he wields, his confusion and fear have him running for his life. What he doesn't expect is to run into the arms of Thanos—a vampire who doesn't intimidate him as much as he intrigues him.

WHAT HAS THE POWER TO MAKE YOU WANT TO SURVIVE?

As their worlds collide under extraordinary circumstances, an attraction neither can deny takes hold. But will that be enough to save Thanos from his demons, or will he condemn Paris to his fate?

Destinies have been changed. Lines have been crossed. And, with tales of the vampire race coming to an end, who will make the ultimate sacrifice?
After all, in a world run by vampires and gods, only one can be the true Master among the Monsters.