January 9


DeLuca Duet, Part One

Ask anyone and they will all say the same thing about just who Dino DeLuca is. A criminal, the son of a traitor, and a mafia Capo who can't be trusted. His past has shaped his life, creating demons he can't escape from that live in his mind day and night.

He is all too aware of just how people see him.

Closed off.
Cold.
Different.

He doesn't care—keeping people out means no one can get close enough to hurt him again, and he already has one too many monsters with their claws stuck in his back that he's still fighting off. His walls are so high, no one is climbing over them. Or so he thinks …

Karen came into his life like a spring shower, her light shining through the darkness and making him see something other than the hell that surrounded him for so long. She doesn't know who he is or what he has done to become the man he is today. If he can help it, she'll never know, and his monsters will never hurt her.

She sees his differences as beauty.
She never asks for more.
She is perfect.

The problem with happiness for Dino DeLuca is that his monsters don't mind taking away what makes him happy. After all, what isn't given cannot be kept.

These lessons will be the hardest he has ever learned.


AUTHOR'S NOTE: The DeLuca Duet is a two book tale following the same couple through their journey. It is a standalone Duet that can be read independently with a HEA ending.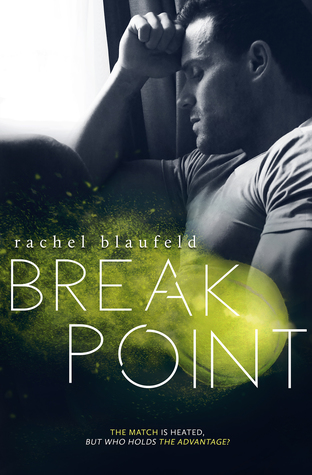 Juliette Smith, star tennis player, is starting over at a new university. Traumatized by hazing at her last school, all she wants is to attend classes, win tennis matches, and be left the hell alone.
She should have known her coach, Drew King, would be a problem from the moment he flexed his sexy-as-hell forearms.
What happens when you mix a pissed-off woman with a bunch of snooty teammates and a hot coach?
A heated match, complete with team politics and a forbidden game of singles with the coach.


It's reckless and hot until one of them taps out.

Unable to admit she may be better off as a double, Jules is convinced she needs to play the game of life alone. Then life throws her a lob and she runs smack into her past.
Coach King is back, and he wants to take control of the game. But she's not certain she wants his advice when it comes to the life she's built.
The power struggle is on, but this time off the court.
Chris and Sara from
Inside Out
return in the explosive finale to Ella's story from
New York Times
bestselling author Lisa Renee Jones with the third book in the sexy, suspenseful Careless Whispers series.
Passion burns fiercely hot between Ella Ferguson and Kayden Wilkens, the man who held secrets and lies in his hands, and then allowed them to fall into hers. But even though he has become her anchor—helping her recover from amnesia after finding her unconscious in an alley, and allowing her into his secret world—all is not what it seems. Kayden still has secrets, and pieces of Ella's past are still shrouded in the darkness of her mind, while the powerful man who hunts her will not stop until she is his. In this final, explosive novel in the Careless Whispers series, Ella discovers that while her life with Kayden didn't begin in that dark alley...it could easily end there.
"My guardian angel is a drunk."
Evelyn Casey's life is at a standstill. She's in her mid-twenties, struggling with the dating scene in San Francisco. Nothing seems to be working out, and she's starting to think that she'll live out her days in her crummy apartment with her overbearing roommate, Brooklyn. It's absurd, but sometimes Evey longs for a guardian angel to show up and save the day.
And then he does. Seriously. His name is Lucian and he's a guardian angel, been on the job for two thousand years. His sudden presence in her life is both good—he's brilliant, witty, and warm—and bad—he's brilliant, witty, warm, and hot as ----. But as perfect as Lucian seems, he's got problems of his own. He's taken up drinking and he's brazenly inserted himself into Evey's life, going against the greatest cosmic law ever created.
For Evey, the rules are simple: You are not allowed to hook up with your guardian angel. But sometimes fulfilling your destiny requires a leap of faith, a confrontation with God.
Yes, God as in God.
He doesn't know how he's lived without her, but he knows he doesn't want to anymore.

Nick Walker found his one and only when he was just nineteen.

Found her.
Loved her.
Lost her.

Now this FBI Special Agent will do anything to win her back.

"A heartwrenching, second chance love story that will bring tears to your eyes and a smile to your face."

"Claudia Connor at her very best!"

Nick Walker thought nothing could destroy what he had with Mia. He certainly never thought he would be the one to destroy it. But when his sister was taken, even getting her back couldn't save him. She was his responsibility. He was supposed to protect her. And he'd failed.

Now ten years later, Mia James is in Special Agent Nick Walker's path once again and this time he's determined to shed the weight of guilt and finally claim the future that was always meant to be theirs.

But it won't be easy. Mia's heart was shattered by Nick and now, just when she'd pieced it back together, it's been broken again, bringing their past to the surface, including her own secret about that day everything went wrong.
Sydney Walker's new job is perfect. As the live-in nanny to the most famous quarterback in the NFL and his beautiful wife, she couldn't have it any better. Their kids are adorable. Her bosses are more than generous. Plus, there are hot football players at the house all the time. Life can't get much better than this.
Until her life turns into an absolute nightmare. The media is abuzz with rumors that she and her boss Drew Callahan are having a torrid affair. Everyone knows the truth—except the public. So Drew's wife Fable comes up with the perfect idea.
She creates a fake relationship between Sydney and one of the rookie players on Drew's team. Wade Knox is forever indebted to Drew and Fable and readily agrees to the set up. Pretending to be in a romantic relationship with the hot nanny for a week—how hard can it be?
Crazy how it only takes one week for two people to fall head over heels in love…
(This mash-up new adult romance features characters from both the One Week Girlfriend series and The Rules series.)