Keeping a secret this big is going to take lots of balls. Specifically, rugby balls.
THE CAD
Bryan Leech is a cad.
Or, he *was* a cad.
No one is quite certain.
Once the quintessential playboy, Bryan claims he's done with wild parties and weekend benders. No more one night stands leading to mornings he can't remember; no more binges and blackouts; no more exploits plastered all over the tabloids and rag sheets. According to Bryan, he's cleaning up his act.
The only problem is, no one believes him.
THE CO-ED
Eilish Cassidy never thought she'd be a mother at nineteen or still in college at twenty-four. Cut off from every member of her family except her favorite cousin, she's finally managed to put her life back together. Stronger and wiser, Eilish enters her last semester of university determined to stand on her own. Now she just needs to find an internship.
The only problem is, her best option—by far—places her directly in the path of her son's father, and he doesn't remember her at all.
THE PLAN
Bryan is determined to prove he's changed. Eager to settle down with the right woman, he's got his sights set on the gorgeous redhead who seems terribly familiar.
Eilish is determined to hide her secret. She'll do anything to keep her child safe, even if that means ignoring her own wishes and desires.
But what happens when Bryan starts to remember? And what will it take for Bryan to convince the girl he forgot that she's unforgettable?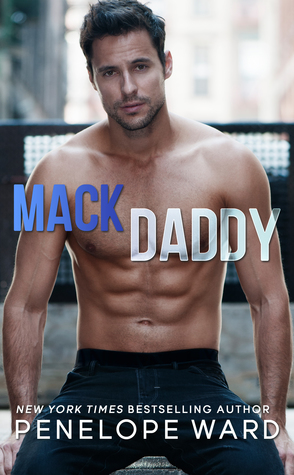 From New York Times bestselling author, Penelope Ward, comes a sexy, STANDALONE second-chance romance.
They called him Mack Daddy. No, seriously, his name was Mack. Short for Mackenzie.
Thus, the nickname. Perfect, right?
So was he: perfect. The perfect physical male specimen.
At the private school where I taught, Mack Morrison was the only man around in a sea of women.
Everyone wanted a piece of the hot single father of the sweet little boy. I was riddled with jealousy, because they didn't know that—to me—he was much more.
They didn't know about our past.
He'd chosen my school for his son on purpose, because Mack and I, we had unfinished business.
As my friend Lorelai so eloquently put it: "Unfinished business between two people who are clearly attracted to each other is like an eternal case of blue balls." And I was suffering in pain from my case.
I was still intensely attracted to Mack. I tried to resist him, immersing myself further into a relationship with another man just to protect my heart.
Not to mention, getting involved with a parent was strictly against school rules. But seeing Mack day in and day out was breaking me down.
And soon I might be breaking all the rules.
Author's note – Told in alternating points of view, Mack Daddy is a full-length standalone novel.
Stand-Alone
Over the course of one wild road trip, feuding childhood sweethearts get a second chance at love in this charming rom-com—a standalone novel from the USA Today bestselling author of Blurred Lines and Good Girl.
When Lucy Hawkins receives a job offer in San Francisco, she can't wait to spread her wings and leave her small Virginia hometown behind. Her close-knit family supports her as best they can, by handing over the keys to a station wagon that's seen better days. The catch? The cross-country trip comes with a traveling companion: her older brother's best friend, aka the guy who took Lucy's virginity hours before breaking her heart.
After spending the past four years and every last dime caring for his sick father, Reece Sullivan will do just about anything to break free of the painful memories—even if it means a two-week road trip with the one girl who's ever made it past his carefully guarded exterior. But after long days of bickering in the car turn into steamy nights in secluded motel rooms, Reece learns that, when it comes to Lucy, their story is far from over. And this time, they just might have a shot at a happy ending.
From the
New York Times
bestselling author of the Marked Men books comes the next installment in the Saints of Denver series.
Everyone else in Dixie Carmichael's life has made falling in love look easy, and now she is ready for her own chance at some of that happily ever after. Which means she's done pining for the moody, silent former soldier who works with her at the bar that's become her home away from home. Nope. No more chasing the hot as heck thundercloud of a man and no more waiting for Mr. Right to find her; she's going hunting for him...even if she knows her heart is stuck on its stupid infatuation with Dash Churchill.
Denver has always been just a pit stop for Church on his way back to rural Mississippi. It was supposed to be simple, uneventful, but nothing could have prepared him for the bubbly, bouncy redhead with doe eyes and endless curves. Now he knows it's time to get out of Denver, fast. For a man used to living in the shadows, the idea of spending his days in the sun is nothing short of terrifying.
When Dixie and Church find themselves caught up in a homecoming overshadowed with lies and danger, Dixie realizes that while falling in love is easy, loving takes a whole lot more work…especially when Mr. Right thinks he's
all
wrong for you.
As a little girl, I saw my father destroy the family he claimed to love. I watched my mother waste her life dreaming of a man who left her without a second glance.
As a woman, I don't dream, I work. I don't fall in love, I focus. I would never let anything as frivolous as love distract me.
Until I meet Simon. A gorgeous, brilliant young architect with dark eyes, a sweet smile, and a dirty, dirty mouth. He sets me on fire, and suddenly all I can do is dream…of his hands, his lips, his body. Of a heart good enough and a love strong enough to make me believe in happily ever after.
But Simon has secrets that are even deeper than mine. Will our pasts destroy everything we've worked for? Or will we find the courage to rise to the challenge and fight for the love we share?
From New York Times bestselling author, Samantha Towle, comes a new standalone romantic comedy.
Vaughn West, Hollywood heartthrob, has been at the top of his game for years. He thinks he's untouchable—until a betrayal brings him spiraling down. Now, everyone pities him, and if there's one thing Vaughn hates, it's pity.
After a few months of working his way through every available actress, pop star, model, and waitress in California, Vaughn needs to get his life back on track and focus on what he does best—making hit movies.
Charlotte Michaels is in love. Just not with one person.
Louis Vuitton…
Christian Dior…
Valentino…
Gucci…
And the list goes on.
Sadly, Charly's limited bank account doesn't allow her those luxuries, and the closest she gets are lucky finds in charity shops and working closely with some of those names in her job as a wardrobe assistant.
Now, Charly has landed the mother of all jobs—working on the new Vaughn West movie. Excited doesn't even cut it.
Only things don't go as planned, and it turns out that Vaughn is actually a jerk. A hot jerk, but a jerk nonetheless.
So, why do their clothes keep falling off whenever they're around each other? And why can't Charly keep her mind in the closet and off Vaughn?
Getting mixed up with a smart-mouthed, fashion-obsessed wardrobe assistant is the last thing Vaughn needs.
Getting mixed up with an arrogant, self-centered, obnoxious, jumped-up actor who has a lack of respect for fashion is the last thing Charly needs.
Things are about to get hot, dirty, and messy in Hollywood. Very messy. Especially if Charly's closely guarded secret falls out of her closet.
Stand-Alone
For Vicente Bernal, truth is all he's known. The son of an infamous drug lord, Vicente was born to help run the family business, which means he's been raised on a throne of sordid pasts and dirty laundry, violence and pride. But when Vicente stumbles across someone he's not supposed to know about – a woman from his father's checkered past – he sets out to California to find her behind his father's back.
What Vicente doesn't expect to find in San Francisco is Violet McQueen, the woman's twenty-year old daughter. Beautiful and edgy with a vulnerability he can't resist, Violet tempts Vicente from afar and though he promised himself he'd stay away from her, curiosity and lust are powerful forces. Besides, Vicente has always gotten everything he wants – why shouldn't he have Violet too?
Soon his wants turn into an obsession, one that sweeps Violet into his games as they fall madly, deeply in love with each other, the type of first love that can drive a person mad.
But it's a love with tragic consequences.
Both the truth – and the lies – not only threaten to tear them apart, but threaten their very lives.
Someone has to pay for the sins of the fathers.
And they'll be paying the price with their souls.
NOTE: Black Hearts is book one of the Sins Duet, with the sequel, Dirty Souls, releasing in March 2017.
These books can be read as a standalone – though they are a spinoff of the Sins & Needles and Dirty Angels trilogies, Black Hearts & Dirty Souls are set 20 years in the future and follow new characters. You do NOT need to read TAT or DA to enjoy or understand this duet