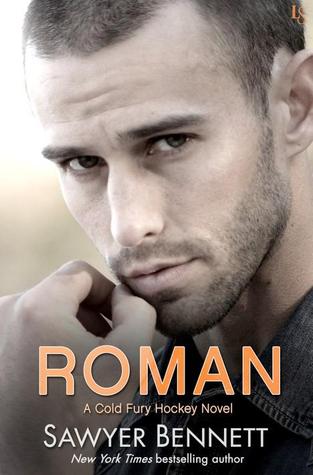 New York Times bestselling author Sawyer Bennett steams up the ice all over again as the Carolina Cold Fury hockey team's hottest bad boy gets his first taste of something good.
In a league full of troublemakers, Cold Fury defenseman Roman Sýkora stands out—at least when it comes to negative publicity. When he's not chilling in the penalty box, the sizzling Czech skate demon is racking up tabloid headlines for his scandalous behavior with the ladies. But now Roman's feeling the burn from management to clean up his act, or else. Luckily he's got an enticing distraction: a fun-loving barista who plays the ukulele and brings out a side of Roman he didn't know he had.
Lexi Robertson came to Raleigh, North Carolina, to finally meet her father, Brian Brannon, and her half sister, Gray, both of whom work in the Cold Fury's front office. That's where she first meets sexy, intimidating Roman—who's really a big softie at heart. As one relationship takes off, another begins: Brian seems to be clicking with Lexi's boss at the coffee shop. But when the friction between Roman and her new family heats up, Lexi wonders whether she's a pawn in their game. Feeling hurt and foolish, Lexi's ready to quit while she's ahead. Trouble is, Roman's not ready to quit on her.
Don't miss any of Sawyer Bennett's electrifying Cold Fury novels:
ALEX | GARRETT | ZACK | RYKER | HAWKE | MAX | ROMAN
Roman was so good! I can't even believe I waited that long to read it! You all know by now I'm a huge fan of Sawyer Bennett and this being the 7th book in the Cold Fury series, I was wondering how she could still surprise me! But she did. And she did it well.
So we get back on this ice and this time it's with the troublemaker, Roman Sýkora. He does what he wants, when he wants and how he wants; consequences be damned! He's not really to blame, his parents weren't there much, and he got hockey practices at an early age so he could only count on himself for as long as he can remember. He's only seen for all the wrong he does and it's quite a pity IMO.
Having some problems with the authority, what does Roman when he's asked to lower his bad boy ways? He has no intention to listen. But meeting Lexi Robertson might be the right thing at the right time.
"Roman Sýkora is one of the team's bad boys. Maybe the baddest. He's a nonconformist, a pure beast on the ice and a man who marches to the beat of his own drum. I'm kind of the same, so it's a quality I definitely can appreciate".
Lexi Robertson was a lovely character. From the blurb, you know who she is and what her role in this story is. She has a sparkling personality, one no one could resist. His father is charmed right away and even if Gray, her half sister; is a little wary at first, she won't resist long.
What made Roman special was that you don't have one love story but two which was totally unexpected and so welcome! Brian got his pov and for those who have already read some Cold Fury books, you knew him from quite some time. I'm happy he got a say in this one. With Lexi as a main character it was the perfect excuse to know more about him and have a little insight in his own happy ending. Thank you Sawyer!
If you are looking for a sweet loving romance with a bad boy changing his ways and an endearing heroine, this is it! Now Lucas is next and if you are not already convinced, just know he's Max little brother.
"What did you have in mind?" Giving me a dark smile, Roman steps back and sits down on one of the chairs. He spreads his legs out in front of him and there's enough glow from the lamp that I can easily see his huge erection outlined through his jeans. Resting his elbows on the arms of the chair, he clasps his hands over his stomach and says,"I want to watch you.""Watch me do what?""I want to watch you,"
~ARC provided by the author in exchange of an honest review~