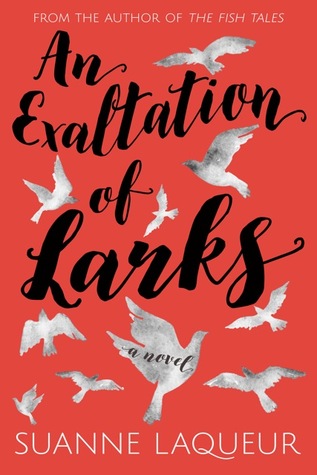 September 11, 1973: Eleven-year-old Alejandro Penda watches from his apartment window as Santiago, Chile falls to a military coup, destroying his family and his childhood. Arriving alone in America, he's taken in by the Larks: a prominent family in the town of Guelisten. Though burdened by unresolved grief for his disappeared parents, he becomes fiercely loyal to the Larks, eventually marrying one of their daughters, Valerie.

September 11, 2001: Javier Landes watches from his apartment window as New York City falls to terrorism. As one of Manhattan's top-paid male escorts, this professional lover has never lacked for company and is loyal only to himself. But in the wake of 9/11, Jav is named guardian for an orphaned nephew in Guelisten and must open his carefully-guarded heart to pain he's long suppressed.

Alex, Valerie and Jav meet first in their twenties, with a sudden attraction each finds strange and compelling. When they meet again in their forties, they discover not only is their bond still strong, but their life experiences are strangely similar. All have been shaped by separate 9/11's, and their unfinished business from the past will change everything they know about love, loyalty and friendship.

"Life has rules. You cannot come in the middle of the night and take what we agreed isn't yours."

Across three decades and two continents, Suanne Laqueur's fifth novel explores the unpredictability of sexual attraction, how family ties are forged, torn and mended, and how love's downfall can turn to exaltation.
Here I'm, 24 hours after reading the end of this book and I'm still high on all the feels I had while reading. It's easy to say I'm a mess. I'm ruined, yet I would give anything to experience it all over again.
"Being with you feels like home."
Don't let the length of the book dissuade you from reading it. It's a beautiful tale everyone should read it. It's the kind of book that need to be part of your reading experience, not because it's going to change you but because it's going to open your mind and give you so many feelings, you will want to read it over and over again.
An Exaltation of Larks is a story about family, friendship, life and love.
Told in multiple point of views, it runs through several decades. I thought at first I would be overwhelmed with so many characters but I wasn't. You get in people's lives and love them for who they are. All have a significant place in the story, everything has a meaning and everyone has a story to tell.
Reading this books gives all the chills and feels that an epic read gives. You'll laugh and cry, you'll love and dislike, you'll be in tune with the decisions taken or you won't. There's no other way with this story. The writing style is poetic and will keep you enthrall all along.
"But what about love?""What about it?""Who loves you?" "You mean, romantically?""Nobody."
There's one particular character that I fell hard for: Javier Rafael Gil DeSoto Landes. This man is a true gentleman with a heart bigger than himself. I don't want to give too much away but I've been deeply touched by his story, by what happened to him and how his life evolved. I was always waiting to get his pov, or a glimpse of him while reading because he was the one I wanted to know more about. He has a certain magnetism to him. The way he speaks, the way he is and the way he loves is simply beautiful. He deserves to have it all. He deserves so much more than he has.
The others are as important as him. By not talking about everyone, I don't want to reduce their place in the book. Some such as Alejandro have a tragic story to tell. I could have picked him to be focus on because to me he's the center point to this story, but broken character who gives an appearance of strength are my fav' kind of guy.
If you've already read my reviews, you know that Hudson Pierce is my "book husband", always were. I never thought someone could compete with him or someone could be with him but Javier just did.
"You and I," "We're so alike. It's no wonder.""No wonder what?""That we kept finding each other."
An Exaltation of Larks is a unique beautiful and emotional journey that I won't forget ever.I'll keep it close to my heart. And you should consider reading it soon.
~ ARC provided by the author,in exchange of an honest review ~