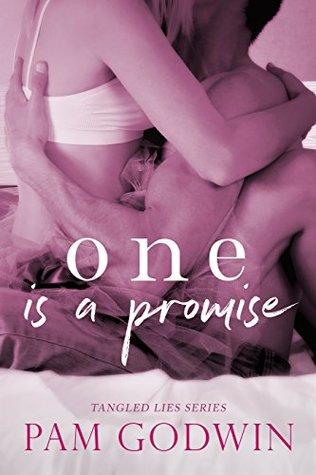 One promise.
One forever.
One look and I knew Cole was mine. My dark rebel in leather. My powerhouse of passion, devastating smiles, and impulsiveness.
When his job sends him overseas, he promises to return to me.
A promise that's destroyed in the most irrevocable way.
Two years later, an arrogant suit invades my heartbroken loneliness.
Clean-cut and stern, Trace is everything Cole wasn't.
At first, he's a job that will rescue my dance company. But as he intrudes on my life, our hostile relationship evolves.
He knows I'm still in love with Cole, but his dedication is my undoing.
Then a catastrophic moment changes everything.
Promises resurface.
Lies entangle.
And an impossible choice shatters my world.
I love two men, and I can only have one.
Holy Shit
THIS
book!
Seriously I couldn't put it down if I wanted! Damn it was so good! It has all the angst and emotions and don't forget the twist and turns! I loved it! I feel like this is going to wreck me in the near future but I trust Pam Godwin to make it all ok! I don't read love triangle. I always end up more torn and sad than happy. There are few authors that can make me change my mind and Pam Godwin is one of them.
"Love isn't a choice. Nor is life. We connect, or we don't connect. We live, and we die. There is no forever. The real fight is in making the best of it, making a difference, and appreciating the small glimmers of happiness."
One is a promise is the first book in the Tangles Lies series and I really appreciate the fact we already know when the next book is going to be available because with the ending we have, all bets are off! There are so many questions on my mind at the moment, so many possibilities that I'm going to have an headache if I wait too long.
The story was wonderfully done. Danni is such a positive character with lots of confidence and wit. She knows herself well; she knows what effects she has on people around her. It was a nice change from the usual weak portrait women have in some books. She is flirty but she knows when to stop and not cross the line.
I fell for Trace the moment he appears in the book. His cold attitude, his detachment toward Danni was an absolute pick to my curiosity. The more the story evolves and the more I wanted to know every secret he has. He keeps pushing Danni's button but so were mine.
"My life began the day we met. There is no before. Only you."
The moment between Cole & Danni really added to the whole atmosphere. It was a great insight of the HEA Danni had. I was sad and angry with her with what happened. Her situation is not an easy one and I always wonder what I would have done if I were her. And that's why One is a promise and the characters are so powerful. You connect with them on many levels and you get attached to all of them and what they've been through. You literally feel what they feel. That's how magical Pam's writing is.
I'm highly anticipating Two is a lie. I need it asap. I want more of and for these three amazing characters. July can't be there soon enough!