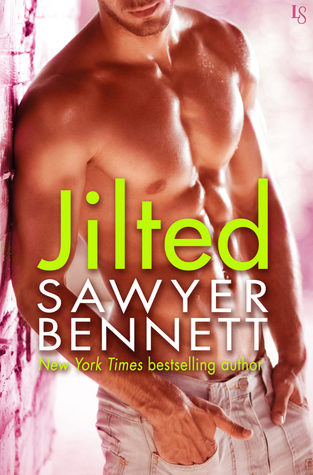 Sawyer Bennett's brand new series of standalone romances! LOVE HURTS!

Hollywood hath no fury like a woman scorned. In this fun, flirty second-chance romance from New York Times bestselling author Sawyer Bennett, an aspiring starlet reconnects with her first love.

Eden Goodnight went to Los Angeles to make it big, not to be publicly humiliated by her cheating fiancé at a red-carpet premiere. But when Eden returns to her hometown to put the scandal behind her, she can barely find a sympathetic shoulder to cry on. Turns out the locals are worse than the paparazzi, and they all think she's turned into a spoiled brat. But in a strange twist of fate, the one person who seems to understand what Eden's going through is Cooper Mayfield . . . the boy she left behind.

Small-town charm is no match for the glitz and glamour of Hollywood. At least that's what Coop's been telling himself all these years. As Eden's old flame—and the landscaper for her family's historic home—Coop feels some responsibility for getting her out of her funk. But as soon as he sees that million-dollar smile, he's a goner. Soon they're making out like teenagers again. But when a life-changing role falls into Eden's lap, Coop just hopes she doesn't give up on a love that's meant to be.
Jilted is the second book in the Love Hurts series. Following Coop & Eden, this was a delightful, sweet, hot and entertaining second chance romance story. Both characters are down to earth. They were together when they were younger but life and career push them away. Fourteen years later, not a lot has changed but the affection they had towards each other is very much present.
As always with Sawyer Bennett, I'm immediately taken away in new world and new place. I love her ability to write so many different stories with lots of different outcomes.
In here, it has a rocky start with Coop & Eden fighting each other with all they got. It was funny to see them try to win a battle they could only loose. There were so much unresolved matters and sexual tension between them, there was only one way to solve their "problems".
Jilted is the perfect book for a Sunday at the beach or for any day where you can just read and relax. Low on the angst and drama, if you are looking for some steam balanced with humors and endearing characters, you've found your happiness.
~Arc provided by the publisher in exchange of an honest review ~
Since the release of her debut contemporary romance novel, Off Sides, in January 2013, Sawyer Bennett has released more than 30 books and has been featured on both the USA Today and New York Times bestseller lists on multiple occasions.
A reformed trial lawyer from North Carolina, Sawyer uses real life experience to create relatable, sexy stories that appeal to a wide array of readers. From new adult to erotic contemporary romance, Sawyer writes something for just about everyone.
Sawyer likes her Bloody Marys strong, her martinis dirty, and her heroes a combination of the two. When not bringing fictional romance to life, Sawyer is a chauffeur, stylist, chef, maid, and personal assistant to a very active toddler, as well as full-time servant to two adorably naughty dogs. She believes in the good of others, and that a bad day can be cured with a great work-out, cake, or a combination of the two.